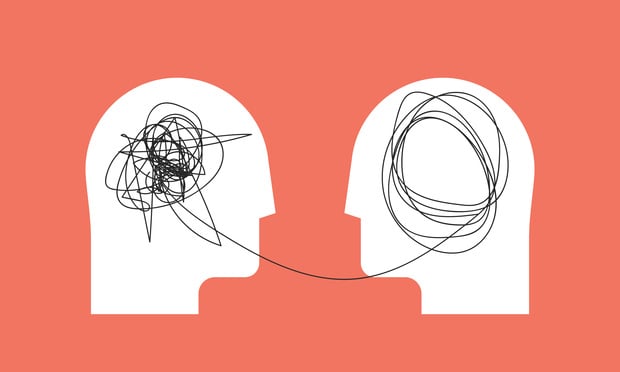 (Credit: Paul Craft/Shutterstock.com)
In the United States, nearly 1 in 5 adults live with a mental illness. But less than half, approximately 46.2%, receive mental health services such as treatment, counseling and medication, according to the National Institute of Mental Health. With workplace-related anxiety and stress on the rise in the era of "quiet quitting," it is beneficial for employers to offer comprehensive mental health benefits for their employees.
According to a survey conducted by the American Psychological Association (APA), employees say that factors such as flexible work hours (41% of workers), a workplace culture that respects time off (34%), the ability to work remotely (33%), and a four-day work week (31%) positively supports their overall mental health. Additionally, while 30% of workers strongly agreed that employer support for mental health will factor into their future job decisions, the APA found that less than a third (30%) reported their employer currently offers health insurance with coverage for mental health and substance use disorders. However, many employees may not know that their plans include mental health benefits. But of those who reported that their employer does offer such insurance, 93% say that such insurance is an effective mental health support.
So, what can employers do to ensure employees feel their mental health and wellbeing are important?
Employers should inform and educate employees about their available mental health benefits and how to effectively use them. Employers who take the time to educate employees will find a happier, stronger, and more productive workforce with an overall improved company culture.
Highlight your mental health benefit offerings and any changes in 2023
Mental health benefits are now table stakes for hiring and retention, which means employers that don't place an emphasis on these benefits will have a harder time attracting and retaining employees. Mental health benefits can be a key differentiator. According to the APA survey, 81% of individuals say they will be looking for workplaces that support mental health when they seek future job opportunities. Openly promoting benefits offerings can also reduce any stigma surrounding their usage and will give employees space to ask their questions. Employers who communicate these offerings and normalize them as part of the workplace culture make their employees feel supported and engaged.
Employee assistance programs (EAPs) are a great way for employees to get help with personal or work-related problems that may impact job performance, health, mental, and emotional wellbeing. EAPs are free for the employee and offer confidential assessments, short-term counseling, referrals and follow-up services. These programs can also go beyond counseling to include substance abuse support, financial planning and legal services — all factors that impact an employee's overall wellbeing. Employers should also remind their employees that HIPAA compliance also applies to mental health, and anything discussed with a counselor, even if it's related to the workplace, is confidential.
If benefits have changed, employers need to quickly notify employees so that they use these benefits to their fullest potential. For example, if the EAP now includes additional free visits, or if employers are offering subscriptions to popular online services like BetterHelp or Headspace, or if employees can start working flexible hours or working from home, employees should be immediately notified — and regularly reminded — of these enhancements. As employees continue to seek mental health support, it is up to employers to communicate any changes and walk employees through any new products or services.
Teach employees to effectively use their mental health benefits
Only providing mental health benefits isn't enough. To drive engagement, employers need to also educate employees how to effectively use them. First-time users may be unsure of where to start and concerned about cost. Going the extra mile to walk through using these benefits will only make employees feel more valued, and research shows that many want the help.
According to a study by Optavise, 22% of employees want to know how to choose where to get care and 33% want to know how their deductible, copay or coinsurance, and out-of-pocket maximum work and what it means for their wallet. Empowering employees to better navigate their benefits will help them feel more confident in selecting the right mental health options and providers.
Employees should also feel comfortable asking questions on how to best select an in-network provider and how to use EAPs or other resource offerings. Opening this channel of communication with employees and teaching them how to effectively use their mental health benefits will make employees feel more valued because their total health and financial wellness is being considered.
Third-party services like brokers and advocacy services can also be used to help employees navigate their benefits and answer any questions about their health insurance plan and mental health offerings. Giving employees the option to speak to a neutral third-party can encourage them to ask questions about finding the help and support they need.
Related: Two-thirds of employers plan to make mental health a top concern, survey finds
By providing proper education about their mental health benefits and encouraging open conversations on how to effectively use them, employees will feel more empowered to take care of their mental health in 2023. Making mental health benefits easy to access has a massive impact on current employees, workplace culture, and recruiting and retention. The connection between employee wellbeing and productivity is undeniable, making mental health benefits a priceless addition to any benefits package.
Kim Buckey, VP of client services at Optavise (formerly DirectPath)