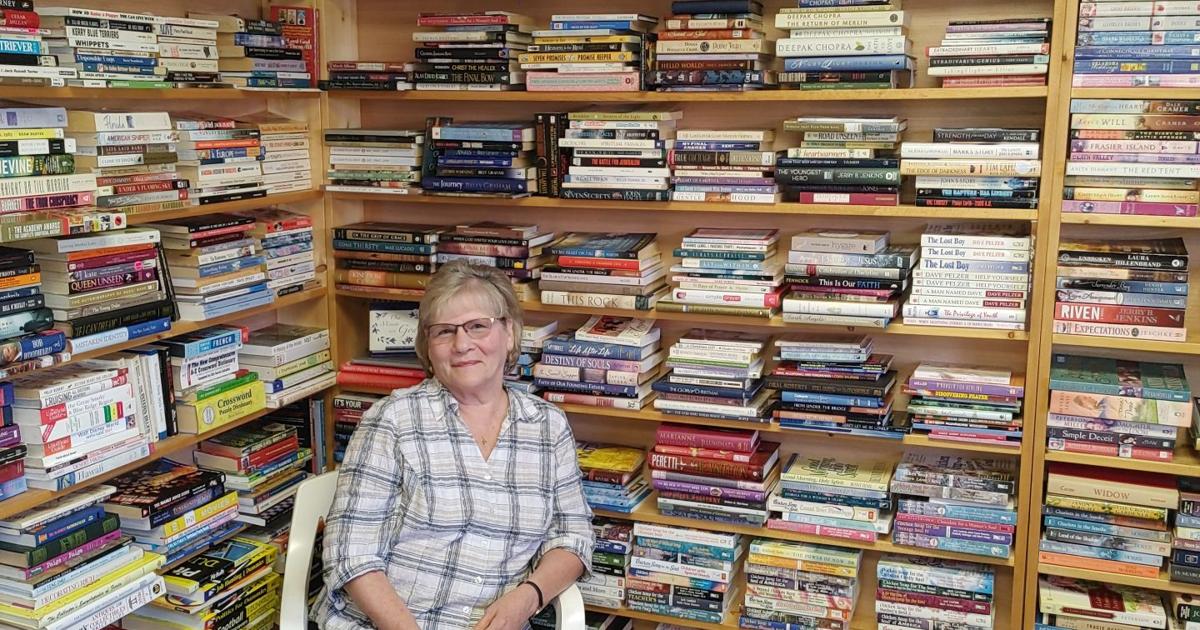 Karen Ervin always dreamed of owning a small bookstore. That dream became a reality when she purchased The Book Nook, a New Castle business located at 1725 G Ave.A local staple since 1989, Ervin took ownership Jan. 4, 2010. The store boasts approximately 35,000 titles."This truly is a special store," Ervin said. "Everyone, well, almost everyone, knows The Book Nook or has heard of it. I think the customers enjoy the atmosphere, the friendly help, the way the books are displayed and the wonderful smell of snicker doodle cookie melts when they come in."
Open 11 a.m. to 4 p.m. Tuesday, Wednesday, Friday and Saturday, the store offers both new and used books. Available genres include romance, historical romance, contemporary, paranormal, adventure, classics, espionage, war, self-help, non-fiction, religious fiction, religious non-fiction, true crime and horror.The store also has a good selection of large-print materials, plus a section dedicated to Henry County authors, including Mark Sean Orr and Mark Herbkersman."We have a little of everything," Ervin said. "People might find a book in a series they need."If a customer wants a book Ervin doesn't have in the store, she can order it. Depending on when the order is placed, the requested book usually arrives the next day.Besides books, the shop also sells small gift items including handmade jewelry, figurines, air freshener and candle warmers/melts.Lifelong New Castle resident MaryEtta Thurman retired from working in the laboratory at Henry Community Health and has volunteered at The Book Nook for the past three years."I gave up blood for books," Thurman joked, adding that she tries to read a variety of books so she can make suggestions to customers and advertise the best titles available.For Thurman, the customers are her favorite part about the store."The people come in here and it's their bookstore," she said. "They love this place. They are kind, considerate and as funny as can be."Used Paperback Books NeededThe Book Nook accepts used paperback books for customer credit. To calculate the amount of credit a customer receives, Ervin multiplies the original price of the book by 0.25. Then, the sticker price of the books the customer wants to purchase are added and divided in half."Half of the purchase total comes off their available credit, the other half is paid in cash, plus tax," Ervin explained.Books purchased from The Book Nook can also be brought back for credit."It's a good way to recycle and keep books from getting piled up somewhere," Ervin said.An Open BookA Hagerstown resident, Karen Ervin is married to Ed Ervin. The couple has four children and eight grandchildren.A graduate of Pendleton High School, Ervin earned an associate degree in computer programming from Ivy Tech and received an accounting certification. Before retiring, she worked as a bookkeeper/clerk for the New Castle Transit System for 18 years.However, retirement didn't last long.
"I couldn't stand to stay home," she said.So Ervin went to work at the New Castle Big Lots store and once it closed, she approached The Book Nook's former owner, Janet Hughes, about working at the shop."I just loved it," Ervin said about working at The Book Nook. "After about a year, Janet approached me about buying the store. The rest is history.""The most surprising thing about being a bookseller is how I've come out of my shell," Ervin continued. "I was quiet and shy! But in here, my whole personality changes."Although Ervin reads all kinds of books, her favorite book is "A Tree Grows in Brooklyn" by Betty Smith."It's such a sweet book," she said. "I must have read it five or six times."Other authors Ervin enjoys include Kristin Hannah and Stephen King."Books take me away from worries or problems for a bit," she said. "Kind of like escaping into another world. One of my favorite sayings is, 'Reading gives us someplace to go when we have to stay where we are.' That's so true!"Supporting Small BusinessErvin said the best part of her business is interacting with the people."I love the customers and talking to them," she said. "People are what make my little store go round. I've met some truly wonderful people."One such person was the late Charlene Perry, a local author who wrote the "Haunted Henry County" series. Perry passed away in 2013."Charlene was a wonderful person and a great writer," Ervin said. "We could talk forever."According to Ervin, some days at the store are "crazy busy" as people bring in books for credit and browse the shelves. Other days are slower."I am always going through and making sure books are in the right sections," she said. "I've got guys who will stand for an hour or two looking for their favorite authors."With a 4.5 star-rating on Google, The Book Nook has many long-time, repeat customers."My favorite place to visit when I come into town to visit family," posted Sam Worley. "When I say I am going to New Castle, my adult children give me lists of books to get. They don't want any other souvenir from my travels, just something from The Book Nook."In today's day and age, Ervin said it's unusual for a smaller town like New Castle to have a local, independently-owned book store."Those stores have just closed left and right," she said. "I'm doing everything in my power to keep this little store open. I have a lot of regular customers, but I always need fresh customers, too. I just hope everyone will support small businesses. It's nice to be able to shop in town."To contact The Book Nook, call 765-521-2188 or visit their Facebook page. In the event of bad weather, store closings are posted on Facebook.