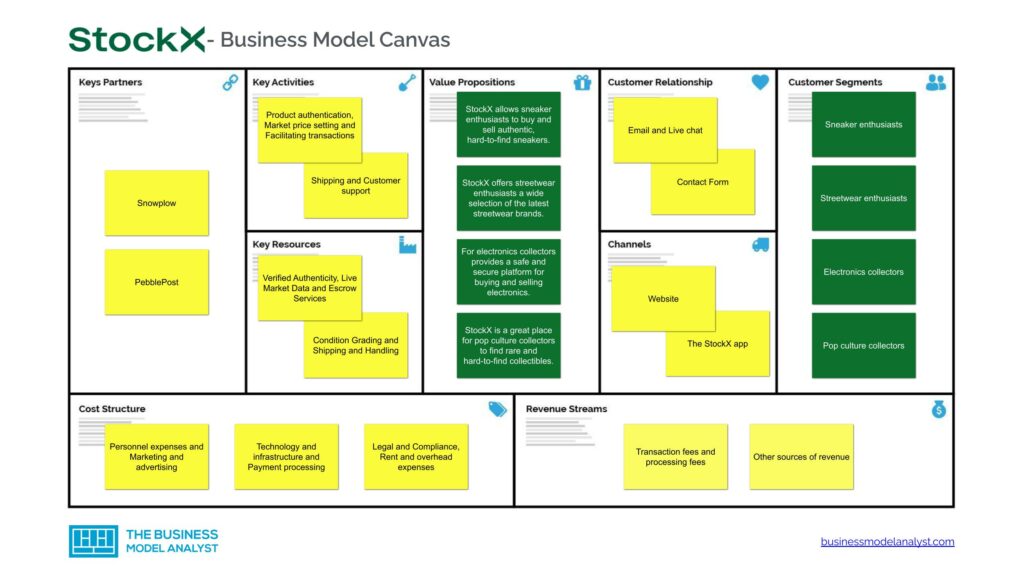 The StockX business model is centered around selling and verifying apparel and rare collectibles. The company is known for dealing with luxury goods, and as a result, it came up with solid authentication services.
The company is known for using a "bid/ask" model, where buyers place bids on products and sellers list items for sale at a specific price. StockX then verifies the authenticity of these products before they hit the shelves. Because this company acts as a middleman between buyers and sellers, it makes money by charging a fee for its services.
In this blog post, we'll cover everything you need to know about StockX's, history, customers, value proposition, and business model.
A brief history of StockX
StockX is an online company that serves as a marketplace. It facilitates the buying and selling of sneakers, streetwear, electronics, and other high-demand consumer products. The company was founded in 2015 by Dan Gilbert, Josh Luber, Chris Kaufman, and Greg Schwartz.
Before co-founding StockX, Luber was a sneakerhead and data scientist. He noticed a pattern and a market gap in how sneakers were bought and sold on the resale market. He teamed up with Gilbert and Schwartz to create a platform that would bring transparency and credibility to the sneaker resale market.
The company's initial focus was on sneakers, but it has since expanded to include a wide range of products, including streetwear and electronics. StockX is known for its authentication process, which helps ensure that the products bought and sold on the platform are genuine.
Today, StockX is considered one of the leading players in the online resale market. The company has over 125,000 product listings from over 400 brands. It also has millions of users and billions of dollars in annual transactions.
Who Owns StockX
StockX is owned by Dan Gilbert, Josh Luber, and Greg Schwartz. The company has received funding from several investors, including GV (formerly known as Google Ventures) and Battery Ventures. As of 2022, StockX's not publicly traded, so shareholders do not own it.
How Much is StockX Worth?
According to CNBC, StockX is worth $3.8 billion. This came after new funding raised the company's valuation. This giant marketplace experienced rapid growth in the past few years, especially in 2020- 2021 during the outbreak of the COVID-19 pandemic. This period saw a rise in online shopping in what is now termed 'athleisure sales.'
StockX Mission Statement
Although StockX has yet to give any official information about its mission statement, the company has a well-defined vision and mission statement. StockX's vision is "To be the trusted global platform for consuming and trading current culture." The company's purpose is "To empower everyone to connect to culture through their passions."
How StockX works
StockX is a platform that allows users to buy and sell sneakers, streetwear, electronics, and other products. It works by acting as a middleman between buyers and sellers, verifying the authenticity of the products being sold and handling the payment process.
When buying a product on StockX, you can either place a bid or purchase the item at the current asking price. If you place a bid, the seller can accept or reject it. If the seller accepts your bid, the next process is to verify the product before the sale is finalized. Afterward, you will be required to complete the payment process through StockX.
The process is still the same if you purchase the item at the current asking price.  Experts will authenticate it before being shipped to you. Once the payment is complete, the seller will ship the product to StockX.
It's important to note that when you purchase an item on StockX, you are entering into a legally binding contract with the seller. This means you are obligated to complete the payment if your bid is accepted or if you choose to purchase the item at the asking price.
The process is fairly simple if you want to sell a product on StockX. First, you will need to create a seller account on the platform. Then, you can list the product you want to sell by providing details about the item, such as the brand, model, size, and condition. You will also need to set an asking price for the product.
When a buyer is interested in your item, they can either place a bid or purchase it at the asking price you have set. If a bid is accepted or the item is purchased at the asking price, the sale is finalized, and StockX will handle the payment process. You will then need to ship the item to StockX, where experts will authenticate it before being shipped to the buyer.
How StockX makes money
StockX makes money by charging a transaction fee on each sale made through its platform. This fee is typically around 6-9% of the sale price. The percentage is usually determined by the level of the seller (i.e., level one seller, level two seller).
Let's assume a pair of sneakers sell for $400 on StockX. The company might charge a $9 transaction fee, with the cost split between the buyer and the seller.
StockX also makes money through partnerships. The company works with several brands and retailers to provide them with access to its platform and user base.
StockX Business Model Canvas
The StockX Business Model can be explained in the following business model canvas:
StockX Customer Segments
StockX customer segments consist of:
Sneaker enthusiasts: People who are passionate about collecting and wearing rare and limited edition sneakers;
Streetwear enthusiasts: Those interested in fashion and urban culture and who follow trends in streetwear clothing and accessories;
Electronics collectors: People who collect and trade electronic devices such as smartphones, tablets, and gaming consoles;
Pop culture collectors: People who collect memorabilia related to movies, TV shows, music, or other pop culture phenomena;
Investors: People who buy and sell collectibles as a way to invest in rare and valuable items.
StockX Value Propositions
StockX value propositions consist of:
StockX allows sneaker enthusiasts to buy and sell authentic, hard-to-find sneakers.  Remember, this platform has a solid authentication process. As a sneaker enthusiast, you can also use StockX to track the value of your sneaker collection and get alerts when your desired sneakers become available;
StockX offers streetwear enthusiasts a wide selection of the latest streetwear brands.  StockX offers a wide selection of trendy streetwear clothing and accessories from top brands, allowing you to buy and sell items confidently through its authentication process easily;
For electronics collectors, StockX provides a safe and secure platform for buying and selling electronics.  As an electronic collector, StockX allows you to buy and sell a variety of electronic devices, including smartphones, tablets, and gaming consoles, and provides verified authentication to ensure that you're getting high-quality products;
StockX is a great place for pop culture collectors to find rare and hard-to-find collectibles from their favorite movies, TV shows, music, and other pop culture phenomena. You can also sell your own collectibles to other fans on StockX;
For investment collectors, StockX allows you to buy and sell rare and valuable collectibles easily. StockX provides a platform for buying and selling rare and valuable collectibles, which can be a potentially lucrative investment opportunity. StockX's authentication process helps ensure you get authentic and high-quality items.
StockX Channels
StockX channels consist of:
Website
The StockX app, available on the iOS App Store and the Google Play Store
StockX Customer Relationships
StockX customer relationships consist of:
Email: You can send an email to StockX's customer service team;
Contact Form: You can submit a contact form through StockX's website;
Live chat: You can also chat with a StockX customer service team member through the live chat feature on the company's website. The live chat feature is available Monday through Friday, 9 am to 6 pm EST. However, it's important to note that the live chat feature is only available to U.S. users.
StockX Revenue Streams
StockX revenue streams consist of:
Transaction fees and processing fees: StockX charges a transaction fee to buyers and sellers each time a sale is made on the platform. The transaction fee is a percentage of the sale price and is added to the product's final cost;
Other sources of revenue: In addition to transaction fees and processing fees, StockX may also generate revenue from other sources such as advertising, partnerships, and premium services.
StockX Key Resources
StockX key resources consist of:
Verified Authenticity: StockX authenticates every item sold on its platform to ensure that it is genuine and not a fake or knockoff;
Live Market Data: StockX provides real-time market data for various products, including the current sale price and bid/ask spread. This helps buyers and sellers make informed decisions about what to buy and sell;
Escrow Services: StockX acts as an escrow service, holding onto the payment from the buyer until the seller has shipped the item and the buyer has received and accepted it. This helps protect both parties and ensures that the transaction is smooth and secure;
Condition Grading: StockX has a team of experts who grade the condition of each item on a 1-to-10 scale, with 10 being brand new. This helps buyers understand the condition of the item they are purchasing and helps sellers accurately represent the condition of their item;
Shipping and Handling: StockX handles the shipping and handling of items sold on its platform, including providing tracking information and insurance. This makes it easier for both buyers and sellers to complete the transaction.
StockX Key Activities
StockX key activities consist of:
Product authentication
Market price setting
Facilitating transactions
Shipping
Customer support
StockX Key Partners
StockX key partners consist of:
StockX Cost Structure
StockX cost structure consists of:
Personnel expenses, including salaries, product development, and benefits;
Marketing and advertising;
Technology and infrastructure;
Payment processing;
Legal and Compliance;
Rent, overhead expenses, and other utilities.
StockX Competitors
GOAT: GOAT is a leading e-commerce platform for buying and selling sneakers, streetwear, and other fashion items. Founded in 2015, the company has quickly risen to become a major player in the industry, with a net worth of over $1 billion. GOAT differentiates itself from StockX by offering a wider selection of products and a more immersive shopping experience.
Sneaker Con: Founded in 2009, Sneaker Con is another competitor to StockX. The company specializes in the buying and selling of limited-edition sneakers through its online marketplace. Unlike StockX, which primarily operates as a stock market for sneakers, Sneaker Con also puts on physical events, often referred to as "sneaker conventions" where enthusiasts can buy, sell and trade sneakers in person.
Flight Club: Flight Club is a sneaker and streetwear marketplace that was founded in 2005. This company has a strong industry reputation and a large following of loyal customers. While both companies offer a similar service, allowing users to buy and sell sneakers and streetwear items, Flight Club differs from StockX in a few key ways.
For instance, Flight Club has a more expansive selection of rare and hard-to-find items, and it also has physical storefronts in major cities around the world, while StockX only has dropoff locations.
Stadium Goods: Founded in 2015, Stadium Goods has become popular with sneaker and fashion enthusiasts. The company has an estimated net worth of over $250 million. Stadium Goods differentiates itself by offering a wider selection of products, including limited-edition and rare items, as well as an in-house authentication service to ensure the authenticity of all products sold on the platform.
Kixify: Kixify is a popular online marketplace for sneaker enthusiasts and collectors. It was founded in 2011 and has since grown to become a major competitor to StockX. One key difference between the two companies is that Kixify allows individual sellers to list their sneakers for sale directly on the platform, while StockX only allows sales from pre-approved, professional sellers.
StockX SWOT Analysis
Below, there is a detailed swot analysis of StockX:
StockX Strengths
Authenticity guarantee: This platform strives to sell authenticated sneakers, streetwear, electronics, and other collectibles. This means that customers can trust that the items they buy are genuine;
Competitive pricing: StockX operates as a live bid/ask marketplace, which means that prices are determined by supply and demand. This can lead to more competitive prices compared to traditional retail stores;
Easy buying and selling: This online marketplace makes it easy for users to buy and sell items through various measures that help with handling payment, authentication, and shipping. This takes the hassle out of the process for both buyers and sellers;
Wide range of products: StockX has a large selection of sneakers, streetwear, and other collectibles from top brands. This means that customers have a good chance of finding what they are looking for on the platform;
Trustworthy platform: The company has a strong reputation and has been featured in media outlets such as Forbes, CNBC, and TechCrunch. This helps to build trust with users and adds credibility to the platform.
StockX Weaknesses
Dependence on third-party authentication: StockX relies on third-party experts to authenticate the products sold on its platform. While this helps to ensure the authenticity of the items, it also means that the company is dependent on these external parties;
Potential for counterfeits: Despite its authenticity guarantee, there is still a risk of counterfeits appearing on the platform. This could lead to customer dissatisfaction and damage to the company's reputation;
Shipping delays: Due to the high demand for certain products, there may be delays in shipping times. This can be frustrating for customers who are eager to receive their purchases;
Fees for sellers: StockX charges fees to sellers for its services, which may be a deterrent for some users who are looking to sell items on the platform.
StockX Opportunities
The potential to offer more products: StockX has the opportunity to expand its product offerings to include a broader range of items beyond sneakers and streetwear. This could attract a larger customer base and generate more revenue for the company;
Appeal for sneakers internationally: This company currently operates in the United States and a few other countries. However, there is potential for the company to expand its reach to more global markets;
Data-driven decisions: The company could use this data to understand its customers better and to make data-driven decisions about its business. As a marketplace, StockX has access to a large amount of data on consumer behavior and trends.
StockX Threats
Competition: StockX faces competition from other online marketplaces, such as GOAT and Stadium Goods, which offer similar services and products;
Fraud and counterfeiting: Like any online marketplace, StockX is vulnerable to fraud and counterfeiting, as sellers may try to pass off fake or replica items as authentic. StockX has implemented various measures to combat this threat, but it remains a concern;
Shipping and delivery issues: StockX relies on third-party shipping companies to deliver products to customers, and there is always the risk of delays or lost packages. This can lead to customer dissatisfaction and negative reviews;
Payment security: StockX handles large sums of money as customers pay for products and sellers receive payments. Ensuring the security of these transactions is critical to maintaining customer trust and confidence in the platform;
Reputation risk: As a high-profile company, StockX is vulnerable to negative publicity and damage to its reputation. This can be caused by many issues, including customer complaints, controversies involving products or sellers, or negative media coverage.
Conclusion
StockX has established itself as the top dog in the online sneaker market. The online marketplace giant has achieved this through its innovative business model and strong brand reputation. StockX's ability to provide a secure and transparent platform for buying and selling limited edition sneakers has attracted a loyal customer base, especially in the United States.
While the company faces challenges, such as competition from other marketplaces and the need to adapt to shifts in consumer preferences continually, it has demonstrated a strong track record of growth and profitability. All in all, StockX's unique blend of technology and passion for sneaker culture positions it well for continued success in the future.