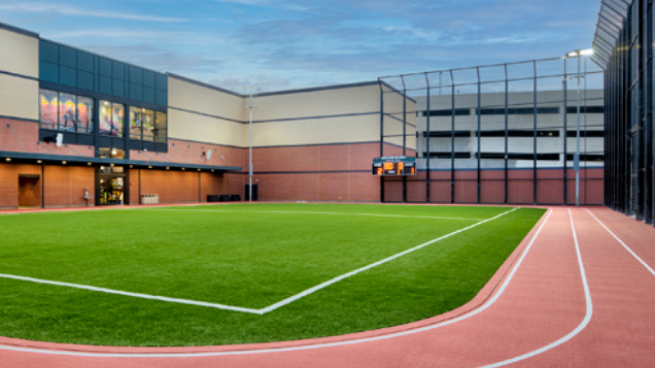 Do your stores serve as hands-on centers that inform online purchase?  Or clubhouses where passionate brand aficionados gather to explore new uses?
In a new report titled "What's in Store for Brick-and Mortar," an international innovation strategy consultancy called Frog holds that physical stores will enter a new era of popularity when their base purpose becomes providing branded experiences instead of merchandise transactions.
The Frog report presents six such store archetypes already found in the marketplace:
The Showroom
More than half of customers are likely to take part in looking at items in stores but purchasing them online, according to a study done by Forrester. More brick-and-mortar stores—especially apparel—already serve as showrooms for eventual online purchases for sales they don't get credited with.
Retail brands that should consider the showroom concept are those whose merchandise is premium, sophisticated, and tech-forward. If their offerings come with multiple options and are highly customizable, showroom associates are no longer salespeople but experts able to personalize the shopping experience and help customers make the right decisions.
Frog names the Apple Store as one outstanding example of a showroom. "Customers can trial the products and experience the feeling of being creative," said the company's analysis. "Highly knowledgeable staff provide personal shopping experiences that justify the brand's premium."
The Playground
Dick's House of Sport–which includes climbing walls and an outdoor turf field and track—is a burgeoning example of this new store archetype. Its customers can not only try on shoes and gear, but also try them out in actual sporting environments.
Retailers bold enough to attempt this store design must deliver customers a physical experience that allows them to push the boundaries of the products they test. Their interaction with other customers also opens them up to new products and purchases.
Frog strategists suggest that store associates avoid forcing customers towards a purchase decision since the playground experience allows them to appreciate the emotional depth and breadth of products and brands.
The Clubhouse
Developers of modern town centers like to say that they don't build centers, they build communities. Retail brands focused on passions and hobbies that attempt to do the same with their customer bases can do the same with a clubhouse store concept.
Rivian, a maker of electric sports utility vehicles that appeal to serious offroad and outdoor enthusiasts, incorporates lounges and libraries into their showrooms. Active apparel maker Rapha offers free coffee, events, and workshops at its clubhouses.
Frog defines a clubhouse store as one that transmits a passion or identity that strongly connects its customers. The brand serves as an arbiter of its community and creates standards for its stores that make members feel welcome, safe, and included.
The Oasis
A few years ago, The Wall Street Journal put forth a striking posture on retail when it posted a stat that customers spend 40% more when they sit down as a part of their shopping experience than when standing up.
The oasis store welcomes those consumers with ample and comfortable space where they can relax and unwind without feeling rushed to buy anything. It works best for value-based or purpose-driven brands that connect to passionate communities. The idea, according to Frog, is to transport its customers and give them a place where they can disconnect from day-to-day troubles.
The RealReal–a consignment seller of luxury goods such as clothing, bags, and watches— is one such oasis whose stores include coffee shops and working desks. Customers at Aesop, a seller of skincare products, can wash their hands with their products in centerpiece sinks where staff members await them with hand towels.
The Studio
The Lowe's Pro Zone stocks commonly purchased items, rents tools, and keeps a support desk to aid contractors. Glossier stores are set up as platforms for customers to experiment with their discount beauty products.
These are early examples of brand studios that sell raw materials and foster creativity for customizers who like to create products that can't be found in batches on shelves.
Brands contemplating studio store concepts, according to the report, should empower customers to experiment with their products and encourage their associates to act as coaches, trainers, and directors who support and inspire their communities.
The Garden
This concept is one that helps customers service, rent, restore, and recycle goods—a fairly new addition to the brick-and-mortar world that's flourishin. A study done by the online thrift retailer ThredUp last year predicted that the secondhand apparel market will grow eight times faster than the entire category through 2026.
Retail brands whose customers are concerned with the environment and seek products with long lifespans needing ongoing maintenance are the perfect candidates for the garden archetype, according to Frog.
Selfridges employs the concept at its massive department stores in the United Kingdom with a "Repairs Concierge" service that mends old products and "ResellFridges," which offers pre-used goods.
New York-based Frog has innovation strategy consultants posted in more than 30 cities worldwide, including London, Barcelona, Hong Kong,  Melbourne, Mexico City, and Paris.