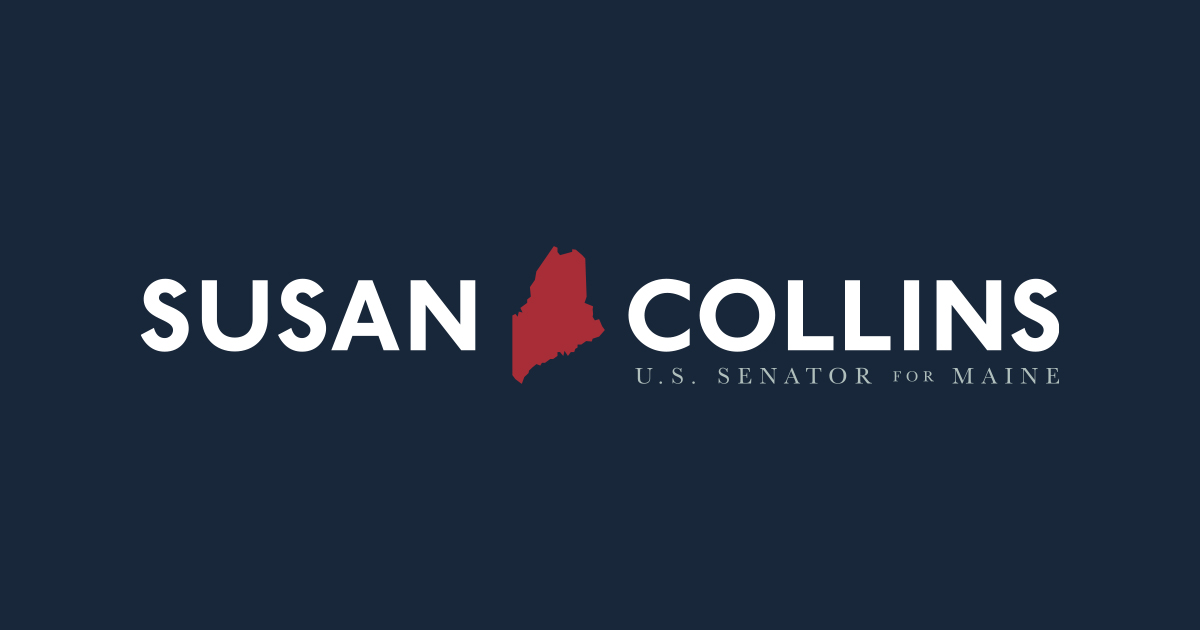 Washington, D.C. –U.S. Senator Susan Collins announced that the government funding package that was recently signed into law includes a number of mental health and substance use disorder policies she championed to respond to the ongoing opioid and mental health crises.
 
"No community is immune from the opioid epidemic, which has been exacerbated by stress and isolation caused by the pandemic.  Tragically, hundreds of Maine lives are claimed each year, and thousands more non-fatal overdoses occur annually," said Senator Collins. "The opioid epidemic requires an all-of-the-above approach.  By increasing access to evidence-based addiction prevention and treatment services, this legislation will be crucial in helping us to tackle this public health emergency.  Additionally, there is a growing need for mental health resources that serve individuals of all ages to support their overall wellbeing.  This legislation makes significant investments in counseling and other supportive services across the lifespan that will be invaluable to individuals in crisis."
 
Once the final numbers are tallied for 2022, Maine is expected to set another tragic record of fatal overdoses for the third consecutive year. According to the latest estimate, Maine overdose deaths in 2022 are expected to exceed the record of 631 deaths that occurred in 2021.
 
As a member of the Senate Health Committee, Senator Collins strongly advocated for a number of mental health and substance use provisions, including:
 
Reauthorizing the Infant and Early Childhood Mental Health Program.  The law includes the Investing in Infant and Early Childhood Mental Health Act, authored by Senators Collins and Tim Kaine (D-VA), which reauthorizes the Infant and Early Childhood Mental Health program at $50 million annually through FY27. 
Strengthening the 988 Hotline.  The law includes the 988 Coordination and Improvement Act, authored by Senators Collins and Tammy Baldwin (D-WI), which establishes a Behavioral Health Crisis Coordinating Office within SAMHSA and requires the office to convene partners and provide technical assistance to enhance access to crisis care annually. Also adds additional transparency and oversight into the implementation of 988. 
Increasing Provider Training.  The law includes the Medication Access and Training Expansion (MATE) Act, authored by Senators Collins and Michael Bennet (D-CO), which requires prescribers of controlled substances, such as opioids, to complete a substance use training course to ensure they have foundational knowledge of addiction prevention, treatment, and medication management.
Expanding Diversity.  The law reauthorizes SAMHSA's Minority Fellowship Program, based on legislation authored by Senators Collins and Bob Menendez (D-NJ), which supports the education and training of minority students studying for advanced degrees in a mental or behavioral health professions. 
Protecting Children.  The law includes the CAMRA Act, authored by Senators Collins, Ed Markey (D-MA), and Roy Blunt (R-MO), which directs the NIH to develop a comprehensive research program that explores how technology and media use affects children's development, health, and wellness.
Increasing Seniors' Access to Counselors.  The law includes the Mental Health Access Improvement Act, co-sponsored by Senator Collins, which establishes Medicare coverage for services provided by marriage and family therapists and licensed professional counselors beginning on January 1, 2024.
Graduate Medical Education.  The law supports physician workforce development by providing for the distribution of 200 additional Medicare-funded graduate medical education (GME) residency positions. At least half of the positions will be dedicated to psychiatry and psychiatry subspecialty residencies.
 
At the same time, as the incoming Vice Chairman of the Appropriations Committee, Senator Collins secured significant funding increases in the fiscal year (FY) 2023 omnibus appropriations bill to implement these provisions and others to help communities, including:
 
Opioid Epidemic. $4.9 billion, an increase of $296.7 million, to combat the opioid epidemic. Funds will be used to improve treatment and prevention efforts; find alternative pain medications; address workforce needs, especially in rural communities; and promote research. The law also gives states flexibility to use opioid response funds to combat rising stimulant use across multiple government programs. Notable programs include:
 
State Opioid Response Grants. $1.57 billion, a $50 million increase. 
Substance Abuse Prevention and Treatment Block Grant. $2 billion, a $100 million increase. 
Building Communities of Recovery Program. $16 million, a $3 million increase. 
Peer Support Technical Assistance Center. $2 million, a $1 million increase. 
 
Mental Health. $5.27 billion, an increase of $803 million, for mental health research, treatment, and prevention, including:
 
Certified Community Behavioral Health Clinics.  $385 million, an increase of $70 million.
Suicide Prevention.  $512 million for SAMHSA suicide prevention activities, including $439.6 million for the recently launched 9-8-8 Suicide Lifeline, in addition to $62 million provided in the short-term government funding bill that was signed into law in September.
Mental Health Block Grant.  $1.01 billion, an increase of $150 million.
National Institute of Mental Health.  $2.34 billion, an increase of $120.9 million, which includes targeted funding for research related to social media's impact on mental health.
Department of Education.  $111 million for school-based mental health grants.
 
###