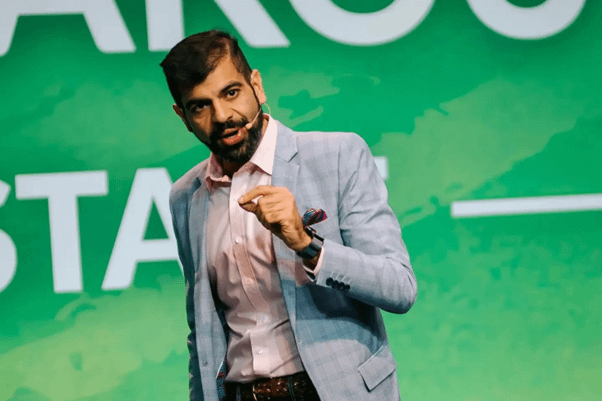 Mehtabjit Teja, also known as Ronnie Teja, is a Canadian entrepreneur and a highly regarded figure in the e-Commerce industry. He is the founder of Branzio Watches, a successful e-Commerce company that specializes in timepieces. He started Branzio with the goal of providing men and women with high-quality watches at reasonable prices and the best possible customer service.
Through the years, he has established over 15 e-Commerce websites, which he manages with the help of his 75+ remote employees. He is a frequent speaker at public events and has been featured on popular podcasts such as The Ecom Show and e-Commerce Fuel.
The life of Mehtabjit Teja
In 2007, at the age of 22, he left behind a promising career in advertising in Mumbai, India to start anew with his family in Vancouver, Canada. However, the early years proved to be challenging as job opportunities in his field were limited in the smaller market of Vancouver. He had to take on various roles, including door-to-door sales of radio advertising, to make ends meet and to continue learning about digital advertising. Despite the difficulties, he remained determined and was able to acquire new skills quickly.
In 2012, he secured a position at BestBuy Canada as a Media Buyer, which provided him with valuable insights into the inner workings of large retail organizations and allowed him to network with some of the top names in digital advertising.
In 2016, he decided to take a risk and launched his first online store, a small drop-shipping venture that he had put together after studying a few online courses. While initially successful, he quickly realized that he wanted to build a brand that was sustainable and had a greater purpose beyond short-term profits. He, therefore, continued experimenting with various e-commerce niches until he finally found his true calling.
How did he succeed?
Mehtabjit is an advocate of the power of hard work and determination, recognizing that these values are essential for achieving success not just in the business world but in all aspects of life. He has an unshakable commitment to never giving up, regardless of the challenges faced. Throughout his career, Mehtabjit has faced many obstacles but has consistently overcome them by adhering to his core values of determination, hard work, and perseverance.
Through these values, Mehtabjit was able to achieve many great things in his career and build successful businesses. He has gained the admiration of many and hopes to continue to share his knowledge and skills with others, in order to foster a larger and more impactful community.
He believes that achieving success is not a simple task, but it can be accomplished through a combination of perseverance, hard work, and determination. He firmly maintains that if an individual is willing to commit the necessary time and effort, they can accomplish any goal they set for themselves. He encourages others to embrace these values as they work towards their own goals and aspirations.
Mehtabjit is also a well-regarded speaker, he has delivered speeches and appeared on podcasts at various events, sharing his expertise on subjects such as affiliate marketing and e-commerce web development. His knowledge base is broad and he is able to offer guidance on many related topics.
His journey as an entrepreneur also had a positive impact on his personal life, he has become more proactive, has improved his listening skills and is less self-focused, he rather prioritizes self-care and being aware of the people around him. He believes that taking care of one's physical well-being is crucial, as business leaders often encounter stressful times in their lives. By focusing on self-care, he believes that one can wake up feeling refreshed, with renewed perspectives and a clearer vision.
Mehtabjit Teja's words to young entrepreneurs
"Take the leap, don't think twice about it." This is the advice that highly successful entrepreneur Mehtabjit Teja offers to individuals who desire to start their own businesses. He regrets not starting his business earlier, instead of spending years selling radios door-to-door. He understands the pressure of seeking validation from peers, but he encourages aspiring entrepreneurs not to let these worries distract them from their goals.
He emphasizes that money should not be the primary concern and advises aspiring entrepreneurs to focus on their dreams and the ways they can achieve them. They will find solutions to overcome any obstacles as they work towards their aspirations, and in the process, they will learn the value of perseverance. Mehtabjit firmly believes in the power of perseverance and in others' abilities to take the leap and start their own businesses.
Mehtabjit sees a bright future in e-commerce and believes that it offers numerous opportunities for success. He has gained valuable knowledge and experience over the years and is dedicated to sharing it with others to help them start and grow their own businesses in e-commerce. He is confident of achieving market dominance or launching a business successfully.
His ultimate goal
Mehtabjit Teja is dedicated to providing outstanding customer service, high-quality products, and honest feedback to his online shoppers. He believes that it is essential to maintain an open and transparent business that customers can trust. He is always searching for new ways to improve his websites and to provide value to his customers.
His mission is to make e-commerce more accessible to everyone and to create opportunities for businesses from all around the world. He has the goal to grow his company and make a significant impact on the industry. Mehtabjit's focus on customer satisfaction and providing value sets him apart from other e-commerce companies and helps to establish trust with shoppers.
Mehtabjit Teja is a man of integrity, who holds a strong work ethic. He has been able to achieve success in his business by adhering to his principles of excellence, honesty, and hard work. His businesses and principles are a source of inspiration for many, and he will continue to be a driving force in the e-commerce industry. His reputation for excellence and integrity sets a high standard for others to follow, and he will continue to be a formidable force in the world of e-commerce.