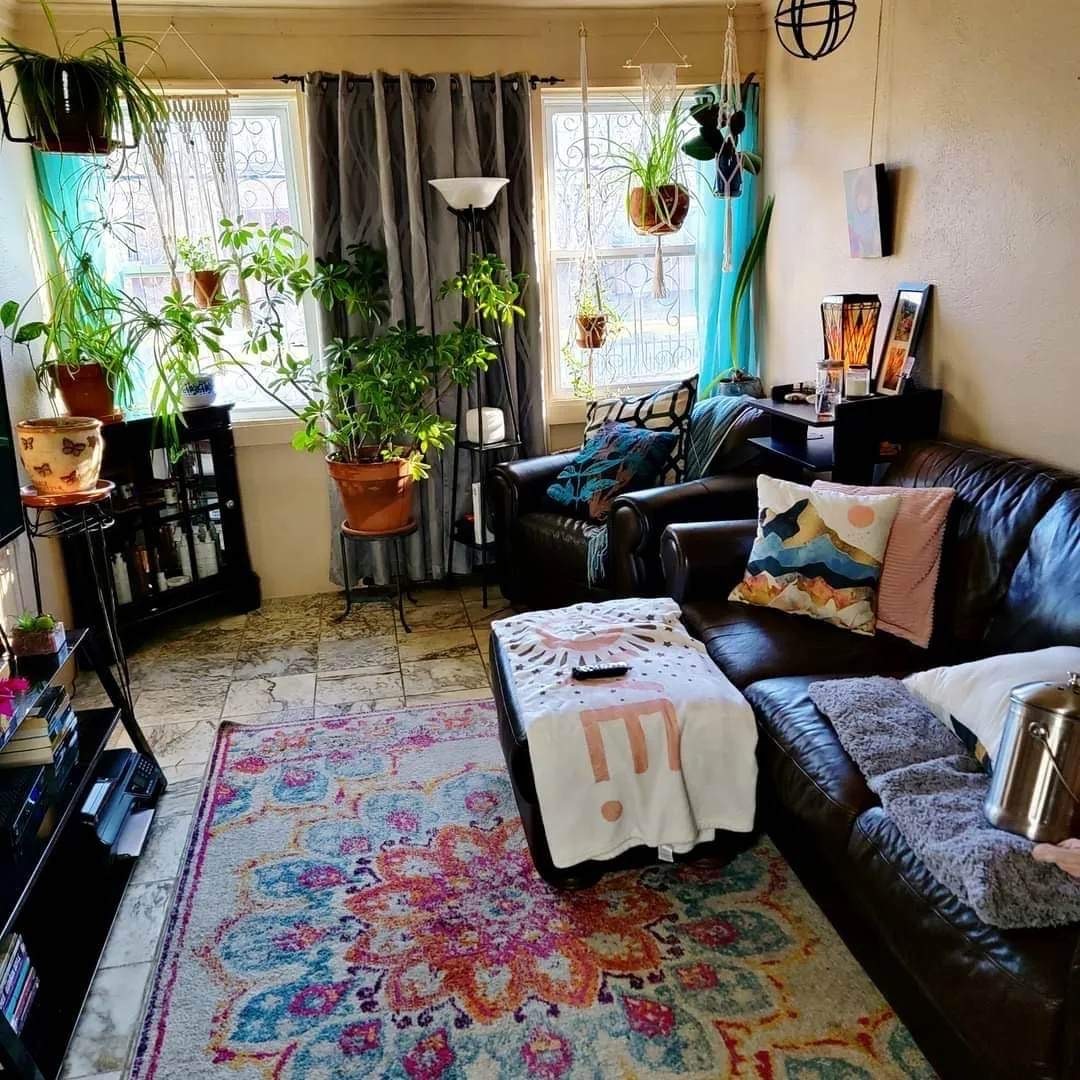 When Logan Story moved back to the Capital Region after a stint in Florida she returned with her dog, cat and whatever else she could squeeze into her Toyota Rav4. It wasn't much. 
Story, who was in her early 30s at the time, was ready to settle down in her hometown of Saratoga Spring but not quite ready to commit to finding a "forever home." She spent several months in her old high school bedroom before moving into a converted garage on her parents' property.
It was as blank as a blank slate could be. She allowed herself a limited budget to furnish and decorate the 500-square-foot empty shell that was remodeled over time to include doors, windows, framing and drywall. There is now a bedroom, living space, small kitchen and a sunroom that  is populated with about 150 plants, she jokingly estimates. 
"I didn't want to spend a bunch of money on an apartment I knew I wouldn't live in forever," said Story, a certified industrial engineer who works as director of business development for Free Form Minds, a Ballston Spa-based mindfulness business consulting firm.
There was no sense in purchasing a dining set or sofa that may not fit into her next home. Her taste could also change along the way. Still, she wanted to personalize her space — and needed furniture — so Story turned to social media, specifically the Buy Nothing Saratoga County NY Facebook group. 
The Buy Nothing Saratoga County online community of roughly 3,000 members was born out of the Buy Nothing Project, a social movement that began in 2013 and now has more than 6,500 groups and 7 million members worldwide. It's a place where neighbors can "give where you live" and come together to share, swap and donate goods — clothing, toys, appliances, tools, furniture and more — without exchanging any money. According to the Buy Nothing Project's website, there are about 250 groups in New York, with more than a dozen aimed at the greater Capital Region area.
Buy Nothing is an eco-friendly and impactful alternative to tossing out unwanted items. Members are encouraged to gift and trade, rather than shop. The Environmental Protection Agency estimates that 9 million tons of furniture are tossed out every single year. For Story this path aligned her need to inexpensively decorate her space and desire to live simply while also mitigating her impact on the environment. 
Four years later after moving into the transformed garage, Story's space is now filled with furniture, decor and other household goods she found for free on the Facebook group. It encapsulates her hygge aesthetic, a Danish approach to design — and life — that evokes coziness and contentment by incorporating color, soft textures, greenery and warm, natural elements.  
"It's now the feeling that you have when it's winter outside and you're on the couch under a blanket with warm slippers and the fireplace watching 'Gilmore Girls'," Story laughed. 
Interior decorating is an evolving and intentional process, and transforming an area into an aesthetically pleasing space with fashionable and found objects is an artful skill. Perhaps more so when you're procuring free pieces from social media over the course of a few years. 
Patience was key. In time she gleaned a bistro dining set, end tables, patio furniture, stereo speakers, colorful curtains and so much more. There's a three-tier kitchen cart she uses to display canning jars (also found on the group) that house herbs and tea. A massive farmhouse table is among her best finds. Story stripped and resurfaced the piece and now uses it for plant propagation. She even picked up a window from a member in Schuylerville that she incorporated into her chicken coop (she has eight chickens) so she could see inside to be sure they were nestled in safely each night. 
Story also scored some staple pieces that were left curbside in her neighborhood, including a corner stand with shelves and lighting that she spotted while out on a jog. She ran right home, grabbed her father's tractor with a wagon, and drove it around the corner to pick up the unit. She even filmed her quest. It's become an indispensable piece and a home for a dozen or so potted plants. 
"You could build an entire room with no dollars if you focused on what was possible instead of what wasn't," she said.
It's hard to have a single, clear vision when you're picking up curtains that catch your eye one day and a three-legged floor lamp days weeks after. It's a fluid but intentional process.
"You have to be OK with your house not looking like what you'd find in magazines," said Story, who ignores professional trends and is OK with melding dark and light wood-tone items with black and white furniture pieces.  "Letting go of that idea of perfection was huge. I just wanted things that were practical and useful and headed for the landfill."
Story has always considered herself frugal, as well as environmentally conscious. She once spearheaded an online community group where she shared frugal-living tips while also discussing the traps of over-consumption (she's not entirely sure how but that morphed into a Facebook group for folks with curly hair called Curly Connections). So what she is doing more than adorning her space with some else's complimentary cast-offs. She's sourcing furniture and household goods otherwise destined for a garbage dump. 
"The environmental piece, that was very motivating," said Story, who is also an administrator for the Buy Nothing Saratoga group. "For me, it was what can I find and how can I make it look great." 
It allows for a fresh, revolving door approach to decorating, she said. By nature, Story isn't one to attach herself to deeply to material objects and doesn't feel compelled to keep anything too long, with the exception of her bed, which she's had since childhood. If a chair she picked up a few months ago no longer works in one spot, she'll move it around to see if it will fit in elsewhere. If not, she will simply post it and pass it on. 
"I don't have to be at the end or the beginning. I can allow this all to grow and develop as I go."