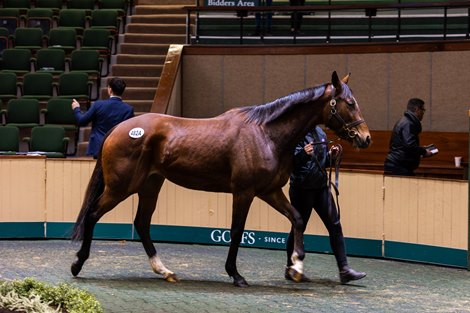 The drama was offstage as two online bidders tussling for Red Azalea brought the Goffs February Sale to a climax Feb. 9, with the Galileo mare out of Sceptre Stakes (G3) winner Music Box , consigned by Baroda Stud, selling for €340,000 (US$364,837) to BBA Ireland. 
It was the highest price for the sale in nine years and fourth best in its history, allied to the sale recording the best prices for flat and National Hunt weanlings and breeding stock prospect of any February sale this year.
Red Azalea (Lot 482A) won once and placed in five of her nine starts for Aidan O'Brien and the Coolmore partners. She is inbred 3×4 to Allegretta; the 4-year-old's family traces back to that of Lammtarra.
The same buyer and consignor were involved in the day's other six-figure sale, that of Nomadland, an unraced 4-year-old Frankel  filly (Lot 468) out of Love Conquers, a winning Deep Impact full sister to the Tokyo Yushun-Japanese Derby (G1) winner Deep Brillante . 
Photo: Courtesy Goffs
Nomadland consigned as Lot 468 in the Goffs Ireland February Sale
Sign up for BloodHorse Daily
Again it was a tussle between two online bidders for the filly, who is a granddaughter of the Prix Chloe (G3) winner Love and Bubbles , by Loup Sauvage, with a member of the BBA buying team winning out at €110,000 ($118,036).
Following on from their excellent first half on Wednesday, the Baroda team supplied the top three lots on Thursday, all of them breeding prospects and at full-time were the sale's leading consignors by aggregate, generating €1,133,500 ($1,216,302) of sales from 31 horses sold.
Barry Lynch went to €75,000 ($80,478) for the Holy Roman Emperor  mare Romanosa  (Lot410), who was third in the listed Prix Ceres at 3.
"She is a very nice filly with a really good back pedigree. She will probably come back for resale hopefully in foal to a high-profile stallion," stated the agent, who was buying on behalf of a client.
That back pedigree is quite impressive—her dam Almahroosa  is a Dubawi  half sister to the Ribblesdale Stakes (G2) winner Thakafaat , herself a half sister to group 1 winners Power  and Curvy , who won the Ribblesdale herself prior to her E.P. Taylor Stakes (G1T) success. They are out of Frappe, an Inchinor half sister to Two Thousand Guineas (G1) winner and sire Footstepsinthesand  and Phoenix Stakes (G1) winner Pedro the Great .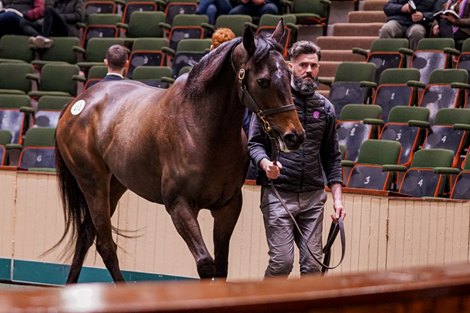 Photo: Courtesy Goffs
Romanosa consigned as Lot 410 in the ring
The 2023 sale returned to two days having been run over three days last year, with 22% fewer horses sold this year than 12 months ago. Accordingly, turnover declined by 28% from €6,020,200 ($6,459,976) to €4,348,550 ($4,666,212), but the average dipped by just 7% to €15,929 ($17,092) from €17,103 ($18,352). The median of €9,000 ($9,657) was unchanged. 
Henry Beeby's End-of-Sale Statement
"Goffs February fulfills an important function in the sales calendar as it provides another opportunity for foal (weanling) sellers and buyers. Sometimes the youngster needed more time and on other occasions, they did not make our superb November or December Foal Sales for some reason or failed to hit the target on that visit to the ring. 
"When November and December are strong it sometimes leads to a weaker February as orders might be filled and/or the better lots already sold. Whether or not that is the case this week is debatable, but the common theme over the last two days has been a vibrant trade for those that held the most appeal, especially to the pinhooking fraternity, but an altogether different story for those deemed not to be as commercial. Suggesting otherwise would be foolhardy, as it is very much the case in the times in which we live. 
"2022 probably enjoyed a post-pandemic bounce in terms of numbers with the expansion to three days for the first time since 2018 and so this year's two-day affair was always going to show a reduced turnover. However, it is interesting to note that the median price remained the same as 2022, which demonstrates a consistency to the market for a sale in which the size of the entry is largely reactive to the autumn sales.
"Trade for the breeding stock session mirrored the weanlings with keen competition for some and less interest in others, but we have been pleased to welcome another strong overseas contingent to Kildare Paddocks, who are enticed year after year by the enduring quality of Irish bloodlines and the endeavors of ITM working alongside the Goffs buyer recruitment team and our excellent international agents.
"The market-leading status of Goffs February has been confirmed once again, with the highest February prices for flat weanling, National Hunt weanling and breeding stock, with the latter recording the fourth best price for this sale and the best since 2014. As ever, we extend our thanks to each vendor and all our purchasers, for we are nothing without them."