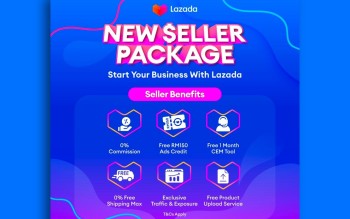 KUALA LUMPUR, Feb 10 (Bernama) — Lazada is encouraging interested businesses and entrepreneurs to take a digital leap by signing up for Lazada Malaysia New Seller Package 2023, and enjoy multiple benefits to help them nurture their businesses.
In a statement today, Lazada said the package was part of its continuous efforts in empowering local micro, small and medium enterprises (MSMEs), young entrepreneurs, as well as home-based mompreneurs and students that are interested to start selling online.
It said for local MSMEs and entrepreneurs, eCommerce is an extended business lifeline to reach and engage with more consumers.
"This is especially important in today's digital era where consumers are more tech-savvy and online shopping has become a norm in the everyday lives of many Malaysians," it added.
The eCommerce operator said new marketplace sellers onboarding from now until Dec 31, 2023 under the Lazada Malaysia New Seller Package will have full access to Lazada's suite of technology and innovative digital tools.
"The new sellers can enjoy multiple benefits to help them nurture their businesses during the critical first three months of being onboarded, including free registration and no set-up cost, onboarding support with free product upload service, zero per cent commission fee for three months, zero per cent free shipping max one-month and free advertising credits for sponsored discovery worth RM150.
"Other than that, new sellers onboard will also have exclusive traffic and exposure, free one-month access to customer engagement management tool that enables Lazada sellers to boost their online store and engage with customers through customised messages and access to a wide range of free training and hands-on support from Lazada University," Lazada said.
Chief operating officer, Lazada Malaysia, Darren Rajaratnam said eCommerce continues to grow as customers' preferred discovery channel of choice, surpassing social media and search engines, according to the Lazada Sponsored Solutions Report 2022 – Transforming Southeast Asia from Discovery to Delivery.
"Led by this evolving consumer preference, it is crucial for entrepreneurs to build their digital presence and develop their business online.
"Lazada Malaysia New Seller Package represents our long-term commitment to be the right eCommerce partner for local sellers, especially for fast growing categories such as fashion, beauty, health, groceries, electric and electronics, home and living and many more," he said.
He said this package is meant to benefit not only aspiring entrepreneurs, but also established brick-and-mortar shops that are looking to expand their online presence.
Last year, thousands of new local sellers were onboarded under the 'Hari-Harimau New Seller Kickstarter Package 2022' and many of them are thriving on the eCommerce platform.
Back in 2020 and 2021, Lazada Malaysia introduced 'Pakej Kedai Pintar Niaga' to support MSMEs that were struggling to sustain their business during the pandemic. 
— BERNAMA
BERNAMA provides up-to-date authentic and comprehensive news and information which are disseminated via BERNAMA Wires; www.bernama.com; BERNAMA TV on the Astro 502, unifi TV 631 and MYTV 121 IFLIX channels and BERNAMA Radio on the FM93.9 (Klang Valley), FM107.5 (Johor), FM107.9 (Kota Kinabalu) and RM100.9 (Kuching) frequencies.
Follow us on social media :
Facebook : @bernamaofficial, @bernamatv, @bernamaradio
Twitter : @bernama.com, @BernamaTV, @bernamaradio
Instagram : @bernamaofficial, @bernamatvofficial, @bernamaradioofficial
TikTok : @bernamaofficial