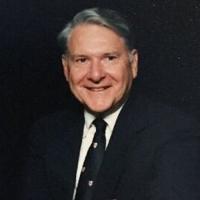 John Kresge Sellers (Jack), age 89, of Lancaster, passed away on Saturday, January 21, 2023 at the Quarryville Presbyterian Home after a long illness. He and his beloved wife Jackie are reunited once more.
Jack was born in Camden, NJ. He was the son of Morris B. and Harriet Kresge Sellers. He graduated from Lehigh University in 1955 with a degree in metallurgical engineering. At Lehigh, he was a brother in Theta Chi Fraternity.
Jack married his high school sweetheart, Jacqueline Joslin Sellers (Jackie), in November of 1955. They made quite the couple and were married for 65 years.
Jack spent his entire career at ALCOA, retiring in 1995 with 40 years of service. During his career, he worked in New Jersey, North Carolina, Tennessee, Pittsburgh, Indiana, and Lancaster, where he served as production manager and quality assurance manager. During his final years at ALCOA, he served as technical consultant for ALCOA's major products in the Middle Atlantic States and Eastern Canada, operating out of the company plant in Lebanon.
Jack served his country in the U.S. Army. After ROTC at Lehigh, he spent eight years in the U.S. Army Reserve in Field Artillery and Infantry, achieving the rank of Captain.
Jack was a former member of DeMolay and the Free and Accepted Masons, served with the Lancaster United Way Campaign, and as VP of the Society for Advancement of Management. He had been an active member of Saint James Episcopal Church, including serving as People's Warden, since 1972 until moving to Moravian Manor in Lititz. With the Episcopal church, he was also active at the Diocesan level, serving on the Diocesan Council as Incorporated Trustee, Co-Chair of the Committee for Affirmative Aging, and Treasurer of the Diocesan 55+ Conference.
Jack was a member of Rotary International and The Retired Officers Association, past president of Quadrille Dance Club, and member of Caper Dance Club. He and wife, Jackie, were fabulous dancers. The pair could really light up the dance floor.
Jack was a real Renaissance man. In addition to dancing, he enjoyed science, hunting, golfing with friends, gardening, and traveling, both domestically and abroad. He loved the Jersey Shore, where he spent his summers growing up. Jack also enjoyed his large family. He was an avid fan of his sons' wrestling and his daughters' running careers. He enjoyed Lehigh wrestling and would not miss the big Lehigh/Lafayette rivalry football game. In his later years, he especially looked forward to the annual Sellers family vacation, where all six children, the in-laws, and nine grandchildren would gather in one big home for a week to share good times, old stories, and to make new memories.
Jack was not quiet nor shy; he was the ultimate extrovert. He loved making jokes and getting people to laugh. He will be remembered for his outgoing personality, his big smile, and his love for: God, family, church, the outdoors, Lehigh, wrestling, his dear grandchildren and his one and only sweetheart, Jackie.
He is survived by his four sons: John, Jr. (Rhonda) of Lancaster, Steven (Anita) of Avondale, Mark (Tara) of Lancaster, Paul of Florida, and two daughters: Marilee Sellers Pazicky (Luke) of Maryland, and Kathianne Sellers Williams (Brian) of Texas; nine grandchildren: John Thomas Sellers (Rachel), Joslin Sellers Gang (Kevin), Andrew, & Thomas Sellers, Ashlynd and Carter Sellers, Maximilian Jack and Alexandra Pazicky, Abeni Williams; and two great-granddaughters, Elsie Grace and Alana Joslin Sellers. In addition to his wife, he was preceded in death by his beloved older sister, Barbara Jane Sellers Tessier.
A service for Jack will be held at Saint James Episcopal Church, 119 N. Duke Street, Lancaster, PA on Friday, February 10, 2022 at 2 p.m. with a reception immediately following. All who knew and loved him are welcome.
Memorial contributions can be made in Jack's honor to Saint James Episcopal Church.
Please visit Jack's Memorial Page at:
www.TheGroffs.com