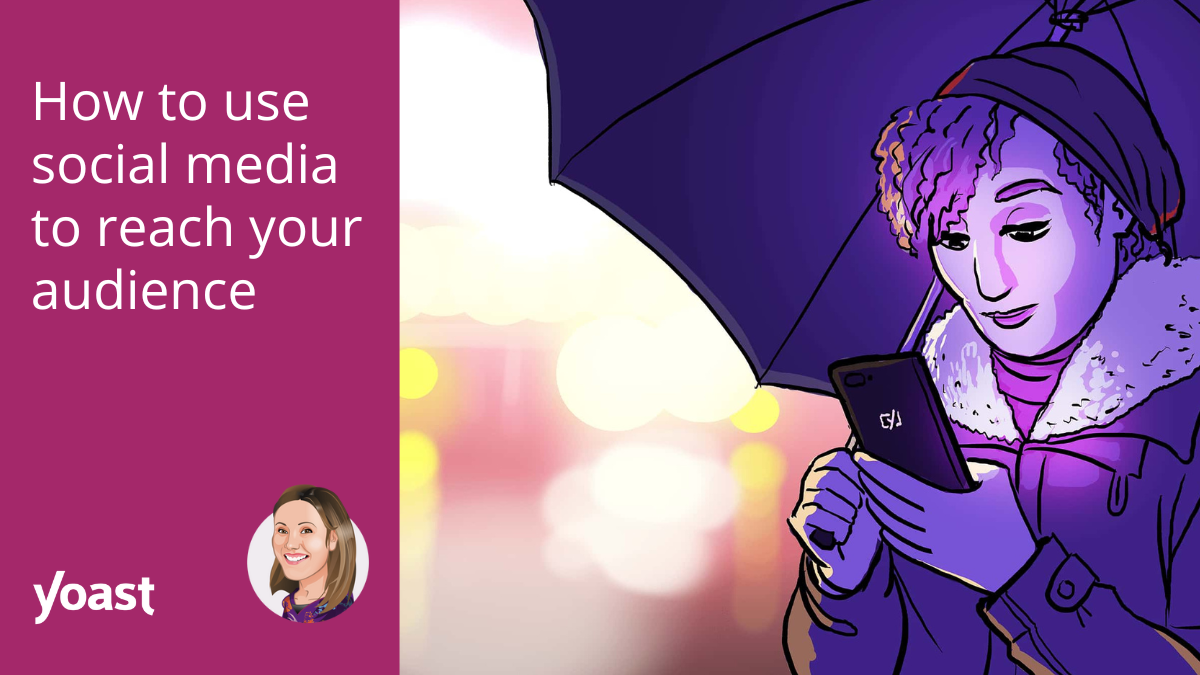 Your social media endeavors need to be a part of your SEO strategy. Especially now that the younger generations (Gen Z) are using platforms like TikTok and Instagram instead of Google. This means your site's popularity on social media ties into your SEO more than ever!
But which social media should you focus on? With so many platforms out there, you can feel overwhelmed with choices. Don't worry, though! You don't have to be active everywhere. That isn't always sustainable. And if your most loyal customers are on Twitter, and you're focusing on Pinterest, then you miss out on many opportunities.
Instead, decide which platform your audience uses the most, then find a rhythm that works for you and build on that. Once you've got your social strategy in place, it's time to start posting! Below are some tips you can use to set up or improve your social media strategy.
1. Keep your account alive
The most crucial advice when using social media is that you need to keep your account alive. But what does this mean? You'll see a lot of advice about posting daily, but that's not always realistic, especially if you're a small business owner.
Our advice: keep your account alive by posting regularly and going at your own pace. If you can only post a couple of times a week, then do it. A good starting pointing is:
People will be able to tell that you're being genuine and fall in love with you for that. What's more, they'll want to continue to follow you if you're posting genuine content that they can relate to.
Of course, everybody needs a vacation, but you don't want to abandon your followers. That's why we recommend scheduling posts for the time you are away or letting people know when you'll be back. And be sure to share some photos of your vacay!
Save time by automating
If you also have a blog where you write regularly, Yoast SEO Premium can help you automate some of your postings. With our Zapier integration, you can automate your social sharing and stay in control of what your social link posts look like. This integration makes it possible to automatically post to your favorite social network whenever you publish new content to your site. It saves you time without compromising on the quality of your social posts.
For social media like Instagram and TikTok, there are also a number of platforms that you can use to stay on top of your schedule and keep all your media in one place, ready to post.
2. Write captivating excerpts
Depending on the type of content you want to share, you need to make sure the copy that goes with your posts is appealing enough to draw people in. There are a number of ways you can approach this. For instance, you can choose the most important sentence or the main point of the blog post you're going to share. You could also share the introduction of the post if you feel that is captivating enough.
Depending on the platform, you could share a story behind a photo you're posting or the failures you've had when testing new products. Or maybe you just want to jump on the latest trend and apply it to your brand.
Is it thumb-stopping?
You want this piece of copy to get people to click on the link in your bio or read the whole caption on the platform. But the basic formula is:
Hook: Something that is going to grab their attention.
Pain point: What is it that your followers are struggling with?
Solution: Well, it's a good thing you have an answer!
CTA: Don't forget to ask your readers to do something.
If you want to learn more about copywriting for social media, check out our article about social media writing tips.
3. Diversify your posts
Having a few solid content pillars is important. They are particularly helpful in keeping you on track with your content creation. Need some inspiration? Here are a few different types of posts you could create. Remember, you're no longer limited to just posting photos!
To help you out, let's look at a few examples. First, you could share your blog posts with a link post. This is one of the most basic post types you can use:
But don't be afraid to change it up. Not all your social media posts need to necessarily direct people to your website. They can also be focused on informing people about a recent piece of news or simply increasing engagement on your social media platforms themselves.
And like we said in the intro, short-form videos are huge right now. They're a great way to give your audience a few quick tips or take your fans behind the scenes.
To decide which posts do well on social media and which content you should make more of, you need to analyze the numbers. This could be the number of views, the number of comments, and how many times a post was shared or saved. Of course, numbers won't mean anything if you don't have a goal in mind. However, it's a good rule of thumb to post more of the content that received numerous views, saves and shares.
Speaking of diversifying your content
At Yoast, we believe in the importance of inclusivity. In addition to diversifying when it comes to types of posts, you should also pay attention to making your content accessible and relatable, for as many people as possible. You need to show diversity to make this happen and being as visual as it is, social media is a great place for that. That being said, the topic of diversity shouldn't be limited to your social media presence. This is a company-wide issue that you need to take seriously and nowadays is non-negotiable in both marketing and social media. Be aware of the image that you're currently putting out there and invest time and resources into making that relatable to everyone.
But it's not all about visuals. You should also use inclusive language, language that avoids excluding marginalized groups of people as much as possible. You might not get all of it right in one go, but becoming aware of it and changing it as you go is a great start. Not only does inclusive language help you reach a bigger audience, but it also helps all of us move toward a more inclusive society. And you might have noticed that social media platforms are being used a lot to talk about this and create more awareness on the topics of inclusiveness and diversity. So be part of the change and use inclusive language on your socials and in your website content. If you're not sure where to start, our inclusive language analysis in Yoast SEO gives you feedback on which words might be harmful and provides you with alternatives to use!
4. Handle comments
If you share your posts on social media, you'll get comments. This is something many people forget about, or try to do in some cases. Because sometimes comments will be good, and sometimes they will be bad. But the comment section is also where conversations are happening. Answering questions, then following up with one of your own is a great way to keep your audience engaged.
While you may get the odd troll in the comments, most of the time you'll find your fans cheering you on and recommending you to their friends. There are some wonderful people in the comment section. Longtime followers can also become huge advocates for you and your brand, so make sure to have a chat with them.
But you should handle the trolls quickly! You don't want your comments section to become a toxic place. Your fans won't like it, but it can also have an effect on your mental health. So make sure your comments section is a safe space.
5. Use eye-catching photos or illustrations
Even with all the recent updates and focus on short-form video content, Adam Mosseri, Head of Instagram, said there is still a place for photo posts on Instagram. Just like on Facebook, where visual content is also essential. And let's not forget Pinterest, which is all about images.
However, you might not have a graphic designer on staff or a photography department at your disposal. Don't worry, though! There are plenty of online tools that can help you create your posts. Just remember to use clear images that either show your products or yourself. This could either be a crisp photo or a delightful illustration. Great quality will make your post stand out in someone's feed, which can increase the post's engagement, saves and shares.
Thankfully, if you're using Yoast SEO Premium, you can check what your blog posts, product page or collections will look like before sharing them on social media. So you can easily adjust your content before posting it online. See how easy it is!
If you're not already part of a community, make one! Being active in a certain community or niche can help build allies, brand ambassadors, and new ideas. In any community, you'll soon discover other interesting people. What's more, talking to customers and end-users can be a great way for you to develop your product. And make sure to let people know that they are always welcome to join.
Additionally, you can make these people fall in love with your brand quicker by giving them exclusive access to discounts, Betas or just generally behind the scenes.
7. Add metadata
All the social platforms are becoming their own little search engines. So in order to be found, you need to make sure that you're including some metadata in the form of hashtags. These can help your growth immensely. For instance, if you are at an event, include the hashtag for that event in your post. Everyone searching for the event will then come across it. There are also hashtags for certain interests or technology.
Some people also have bots set up that retweet everything that is posted in a certain hashtag, which is a great way to boost your post. But don't go overboard! Nobody likes a post that is filled with all kinds of random hashtags. Keep them relevant to your post, and make sure they are accessibility-friendly!
Note that tags on social media work a lot differently than tags on your site. If you're using tags on your site the same way you would on social media, take a look at this post to find out why that's not good for your SEO.
Conclusion
Social media is a key aspect of every (off-page) SEO strategy. Setting up a comprehensive social media strategy can be hard. It will certainly ask for a bit of creativity, and it'll definitely be time-consuming. But trust us when we say that it'll be worth it! And if you think about it, social media and blogging are very similar in many aspects. You just need to get into the flow of it! Good luck!
Marieke van de Rakt

Marieke is the head of strategy at Yoast and founder of Yoast SEO academy. She loves coming up with new ideas and products to make SEO attainable for everyone, and ensure a healthy growth for Yoast!
Coming up next!
Event

WordCamp Cebu 2023


February 11, 2023


Team Yoast is Attending, Organizing, Speaking, Sponsoring, Volunteering, Yoast Booth WordCamp Cebu 2023, click through to see if we'll be there, who will be there and more!

See where you can find us next »

SEO webinar

Yoast SEO news webinar – February 28, 2023


28 February 2023


Our head of SEO, Jono Alderson, will keep you up-to-date about everything that happens in the world of SEO and WordPress.

All Yoast SEO webinars »