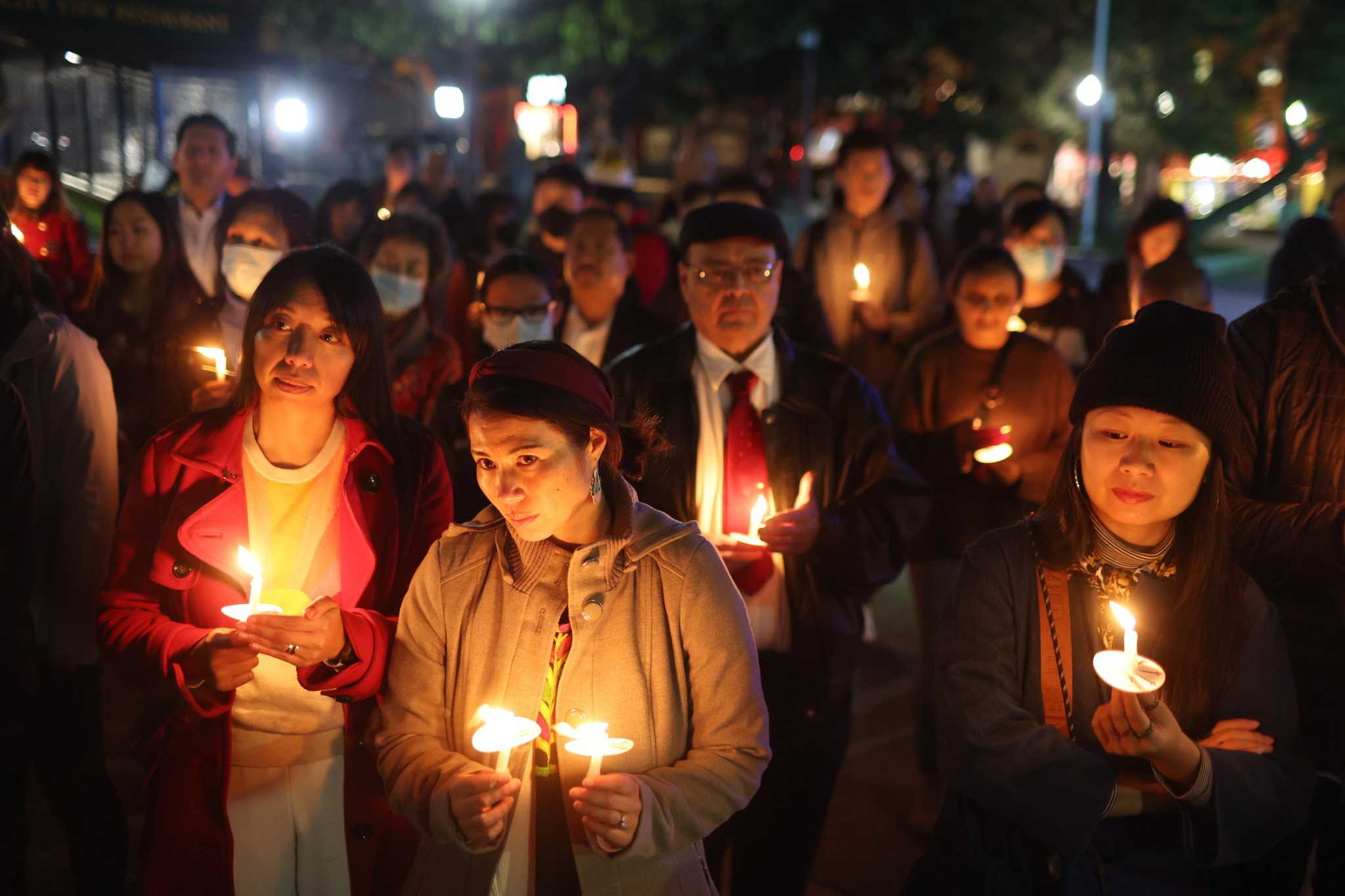 Last week brought a relentless wave of horrific news events:
two California mass shootings
two days apart, the
release of video footage
showing Memphis police officers' violent beating of Tyre Nichols, and the
release of a body-cam recording
showing an intruder's attack on House Speaker Nancy Pelosi's husband Paul in the couple's San Francisco home.
Each incident was disturbing, and in some cases exacerbated the stress many communities — including
Asian American and Pacific Islanders, Black Americans and migrant workers — have already experienced as instances of anti-Asian violence and police brutality gained in visibility during the last few years.
News consumers who want to stay engaged and aware of current events can find it difficult to process traumatic news stories in way that best protects their mental health.
"There's a balance between being informed and behaving in ways that can be harmful for our own mental health and resilience," said
Debra Kaysen, a Stanford clinical psychologist and researcher who studies post-traumatic stress disorder. Here are some of her tips, and resources that can help:
1. Limit your consumption
Research shows that consuming more than about 20 minutes of traumatic news a day is harmful to one's mental health, Kaysen said. This is especially true when watching videos, which often provoke a more emotional response — and thus exert a higher mental health burden — than reading a report about an incident.
Studies have found that the more time people spent viewing media on the 9/11 terrorist attacks, the more likely they were to experience psychological distress. Other research shows that being exposed to online media about the detainment of undocumented immigrants or police killings of unarmed citizens is associated with higher levels of depressive symptoms among Black and Latinx teens and adolescents — indicating that race-related traumatic events take a toll on people who don't experience it themselves but who see it directed at members of their own racial or ethnic group.
One recent study on "doomscrolling" — or reading worrisome stories one after another on a phone or computer — during the COVID-19 pandemic showed that the more time people were exposed to daily news about COVID, the worse their mental health was. They felt more anxious and depressed, were more worried about COVID and were more likely to turn to substances such as drugs or alcohol to cope.
"The more time people spend, the less good it is for their mental health, especially around these types of events," said Kaysen, a co-author of the doomscrolling paper, which focused on lesbian and bisexual women and was published in the journal Psychology of Sexual Orientation and Gender Diversity.
2. Seek information from high-quality news sources
"You can think about it almost like your diet," Kaysen said. "If you consume a lot of junk food it's not so healthy for your body. If you're getting a lot of your information from less nutritious news reporting, that's not so healthy for you either."
High-quality news comes from reputable sources and is informative, while low-quality information is designed to get clicks or generate hurt and outrage, she said.
3. Step away and do something that brings you joy
"If you're going to spend time looking at this, making sure you move away from your keyboard and are doing other things can be helpful," Kaysen said.
She suggests taking a walk, connecting with your kids, talking to a friend, exercising or creating something. Kaysen herself turns to baking. "I'm a 'procrasti-baker,'" she said. "I feed people. For me, it's life-affirming. So that's what I do when I'm feeling the pain around what I see happening around us."
Leaning on your network of friends and family is especially important because one of the most consistent predictors of one's ability to recover from trauma and build resilience is having strong social connections, Kaysen said.
5. Acknowledge your emotions, and examine the messages you tell yourself
"When people are having emotions about things that are happening, around loss, sadness, grief, injustice, feelings of anger, allowing yourself to feel those emotions rather than try to push them away can be quite helpful," Kaysen said. "At the same time, if you're having thoughts that might go to extremes, look at the thoughts and whether those are completely true."
For example, she said, saying that mass shootings are more common in the U.S. compared to other countries moves you toward problem solving. But saying that mass shootings are happening all the time everywhere is extreme and raises anxiety, and doesn't move you toward something helpful. If you notice thoughts are feeding emotions in ways that are not helpful, that is something you can shift, she said.
"I think about it as mental yoga," Kaysen said. "Sometimes our thoughts get rigid, like our bodies get rigid, and it's about having flexibility in your thinking."
6. Seek help if you're distressed
Kaysen recommends free resources, including the Stanford app
Pause A Moment, a self-guided online tool that can direct you to techniques and exercises to cope with specific mental health needs such as anxiety.
The Veterans Administration has developed mental health programs that are free and available to everyone, not just veterans. The mobile app includes coaching for
PTSD,
mindfulness
and
insomnia.
Those with more immediate needs should seek care with a mental health provider.
The
National Alliance of Mental Illness
(NAMI) hotline for mental health crises and suicide prevention is 800-950-6264.
The
Asian Mental Health Project
includes more than a dozen hotline numbers for various affinity groups and needs and links to directories to find therapists.
The
Black Emotional and Mental Health Collective
(BEAM) has information about coping strategies, self check-ins and a directory to find mental health professionals by location.
The
American Psychological Association
has resources on coping with shootings, including how to manage distress in the aftermath of a shooting and how to talk to children about shootings.
The
National Mass Violence Victimization Resource Center
includes information on self-help, crisis counseling, victim assistance, and financial and legal assistance to victims of crime and their families.
Catherine Ho (she/her) is a San Francisco Chronicle staff writer. Email: cho@sfchronicle.com Twitter: @Cat_Ho