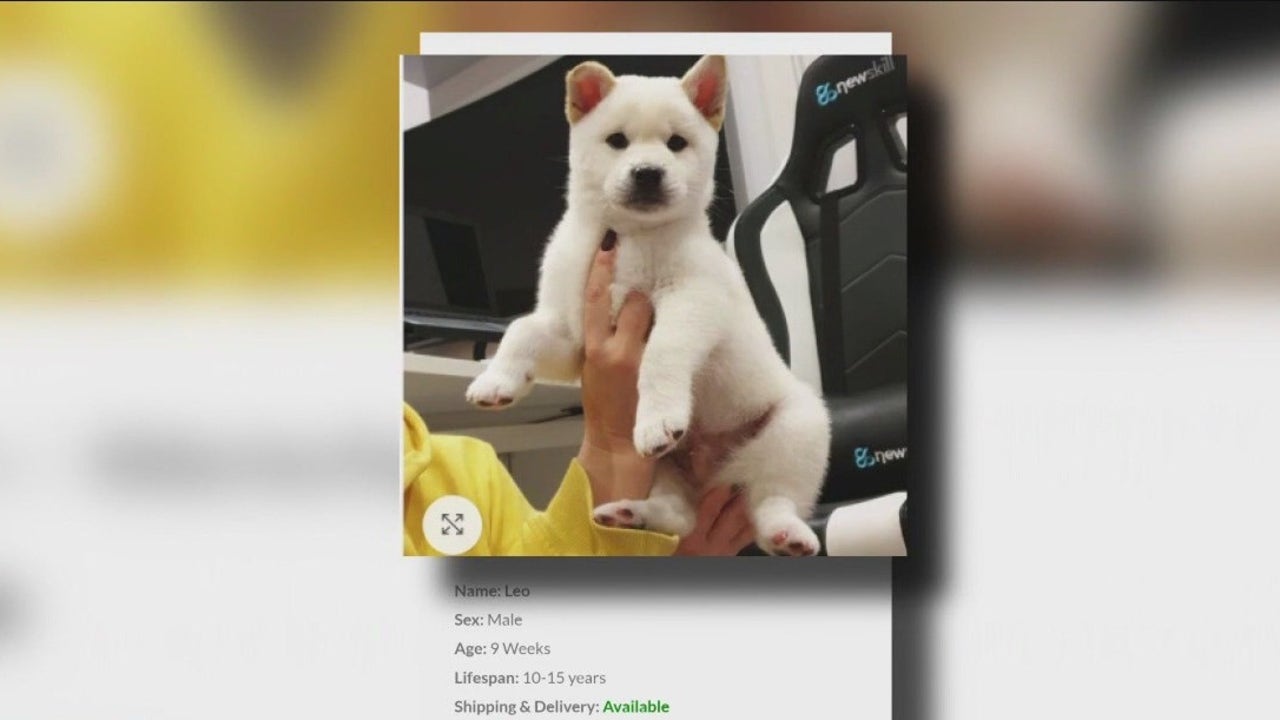 7 on your side: Pets are the top online purchase scam for 2022
Scammers are using your love of pets to get you on the hook.
AUSTIN, Texas – His name was Leo, and his future family was pretty excited. 
"We had a Shiba Inu back in 2019, and we kind of got over the fact that we had lost our puppy, so we were looking to get a new one," said Georgetown resident Ricardo Gonzalez. 
Gonzalez said they did some shopping in person, but the prices were too high. 
"So I was looking online, and I found a place on Google that was pretty inexpensive price for a pup," he said. "At first I was a little nervous, but because I saw it was a Google ad, I thought it was legitimate."
Gonzalez pursued the ad and ended up speaking on the phone with a man named "Frank." They started texting back and forth about Leo and discussing what payment method to use and how he would get to Texas. Gonzalez was given a Zelle account name and phone number to transfer money to.
Gonzalez said he was wary and even researched the address on the seller's website, but it appeared to be legitimate.
"So I sent the $500," said Gonzalez. "He said he'd be in touch within the next couple of days to set up the flight for the puppy because he was being shipped from Omaha to myself."
Then there were some delays and some strange text conversations. Gonzalez did a little more research online. 
"I came across a website called puppyscam.com, and on that website it listed this website as a puppy scam," said Gonzalez. "It said the day that I'm supposed to be receiving the dog I was going to get a text message or email from the shipping company saying that there were problems with the airline, that the crate was going to be undersized or something was going to be wrong, and that I would have to pay additional funds to get the dog." 
That's exactly what happened, and Gonzalez officially realized Leo did not exist. The person coordinating the sale stopped responding to texts. 
"These scams typically follow the same pattern," said Jason Meza, senior regional director for San Antonio, Better Business Bureau serving the Heart of Texas.
According to Meza, often it will start with an individual researching a certain breed online. That's when they may come across a sponsored, official-looking ad. Eventually, the scammer has the individual on the hook for hundreds of dollars.
"The scam is actually the shipping involved, the delivery method to get it to you," said Meza. "They'll tell you the pet is stuck in an airport, or they'll tell you the pet needs a new crate or food insurance to continue the journey."
Online purchase scams continue to be the most prevalent of all scam types reported to the BBB scam tracker, making up roughly 30% percent of all reported scams in 2022. 
Within online purchase scams, the top products used as bait are pets and pet supplies.
In 2022, in Austin alone, there were 16 reported victims that lost a total of $6,538 via these scams.
"We trusted our sellers and breeders online a lot during COVID," said Meza. "Now that we're kind of emerging from that, we need to get back to personal touches and really seeing if we can see or meet the dog and breeder in person."
If that's not possible, ask to see a video or FaceTime that's harder to replicate than a photo. Other red flags to watch out for include: a steep discount on an expensive breed or the seller refusing to accept a credit card, instead asking for payment via Zelle or a gift card.
Gonzalez said he and his family have not gotten a new puppy since they were scammed in November. He hopes his experience can be a lesson to others. 
"We were hoping to get a puppy for our kids, you know, right before Christmas time, so I felt cheated and taken advantage of," he said. "Just do your due diligence, keep doing research and if you find something that seems to be too good to be true, it more than likely is."