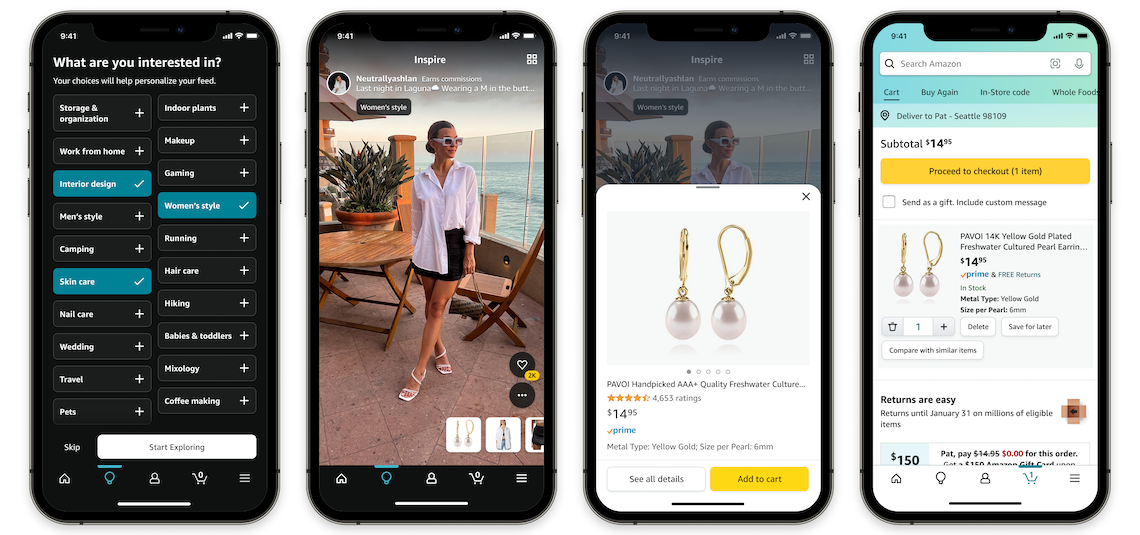 With TikTok videos regularly driving sales spikes for viral products, it was only a matter of time before e-commerce companies got on board with the scrollable short-video format.  
In December 2022, Amazon launched its own version of this feature, unveiling the new Inspire feed on its mobile Amazon Shopping App. While the company shies away from comparing the new feature to TikTok, the format is familiar: Users can tap an icon at the bottom of the app to scroll through full-screen video and photo content featuring product listings. With the launch, the e-commerce behemoth has joined a growing group of e-commerce startups offering shopping-focused scrollable short videos. They include Trendio, a beauty-exclusive platform launched by an Amazon alum in the same month. 
"What customers were asking for more was around open-ended discovery — that sort of serendipitous discovery, where you have a little bit of time to kill; you maybe want to be entertained, and you don't necessarily know exactly what you want," said Oliver Messenger, the director of Amazon Shopping, about what drove the development of Amazon Inspire. 
Now quietly available to a limited number of users, Amazon populates the feed with video and photo content from product reviews, videos or photos created by influencers in the Amazon Influencer Program, and photos from posts created by brands enrolled in Amazon's "Brand Registry" for its "Amazon Posts" social feed. Adidas, Reebok, Lemme, Honest Beauty, L'Oréal and Maybelline were some examples listed by an Amazon representative. Unlike TikTok or other short-video social platforms, users currently cannot create content specifically for Inspire itself. So far, Amazon hasn't released any numbers on active users, engagement or sales. 
Content shows up for users based on an AI algorithm that determines their interests. 
Amazon Inspire is the latest of several TikTok-style e-commerce platforms to launch in recent years. While Amazon's version is open to all product categories, many startups in the space have opted to focus exclusively on beauty. They include Trendio, Flip and Supergreat.
Trendio, for example, was launched in December 2022 by Alex Perez-Tenessa, former vp of Prime Video U.S. and head of beauty at CVS. Former members of Amazon and Glossier are on its team.  
Perez-Tenessa said the startup chose beauty as the focus for the app because, "Today, customers tell you they're not understanding the difference between products just by reading text. They need to see it, so I think video will take over." Beauty brands featured on the platform include Nudestix, Merit, Avene, Relevant, Exa, PYT, Youthforia, Ursa Major, Allies of Skin, Wldkat, Prados Beauty and Kjaer Weis, among others.
A wide range of viral products on TikTok have been linked to sales spikes on Amazon. Amazon's current list of beauty best sellers features several products that have been viral on TikTok, including Mielle's scalp oil, at No. 1, Essence's Lash Princess mascara, at No. 2, and Hero Cosmetics' acne patches, at #3. Amazon also lists these TikTok-viral products on its own "Internet Famous" landing page that Elle has described as "secret;" there's no link to it from the main homepage.
Shopping apps with TikTok-style feeds also incorporate livestream shopping. Amazon currently offers its livestream shopping feature separately to all users. When asked if livestreaming will be incorporated into its Inspire feed, Messenger said, "You can imagine there's a future where we certainly do that," and that "one holistic place to go and find shoppable content" is something customers have been asking for.
Amazon influencers that have become active on Inspire include beauty, fashion and lifestyle influencer Mae Badiyan, who called the platform a "game-changer" that "brings together the perfect combination of entertainment, education and shopping." Home decor influencer  Practically Pursia, meanwhile, said, "It will help me expand the business I've already built with Amazon by giving my audience the convenience of shopping items from my content within the Amazon app instead of requiring them to leave and find the item on their own."
On the flip side, social platforms have also adopted social shopping on their short videos. TikTok ads have shopping links enabled, while Instagram's Reels and YouTube Shorts allow brands to add shopping links. 
The question for both Amazon and social shopping startups is whether users will widely embrace the short video-style feature on an e-commerce exclusive platform. 
"I highly doubt if the user, when they don't want to shop for anything, will browse the videos on Amazon," said Yikai Li, gm of Americas and EMEA at mobile advertising company Nativex, which handles media buying and creative management for brand ads, including on social platforms such as TikTok. He previously worked at ByteDance on TikTok's international expansion. "In each person's mindset, the different platforms have their own scenario and usage," he said. Amazon, for example, has a "really strong impression to the consumer that, 'We are a shopping platform.'"
For Amazon, the goal is not to compete with existing social platforms, but rather to appeal to shoppers with a browsing mindset, said Messenger. 
"We're not social media," he said. "What we're looking to do is build things that delight customers with products they genuinely want and leverage our natural strengths in a way that's very natural and not forced."