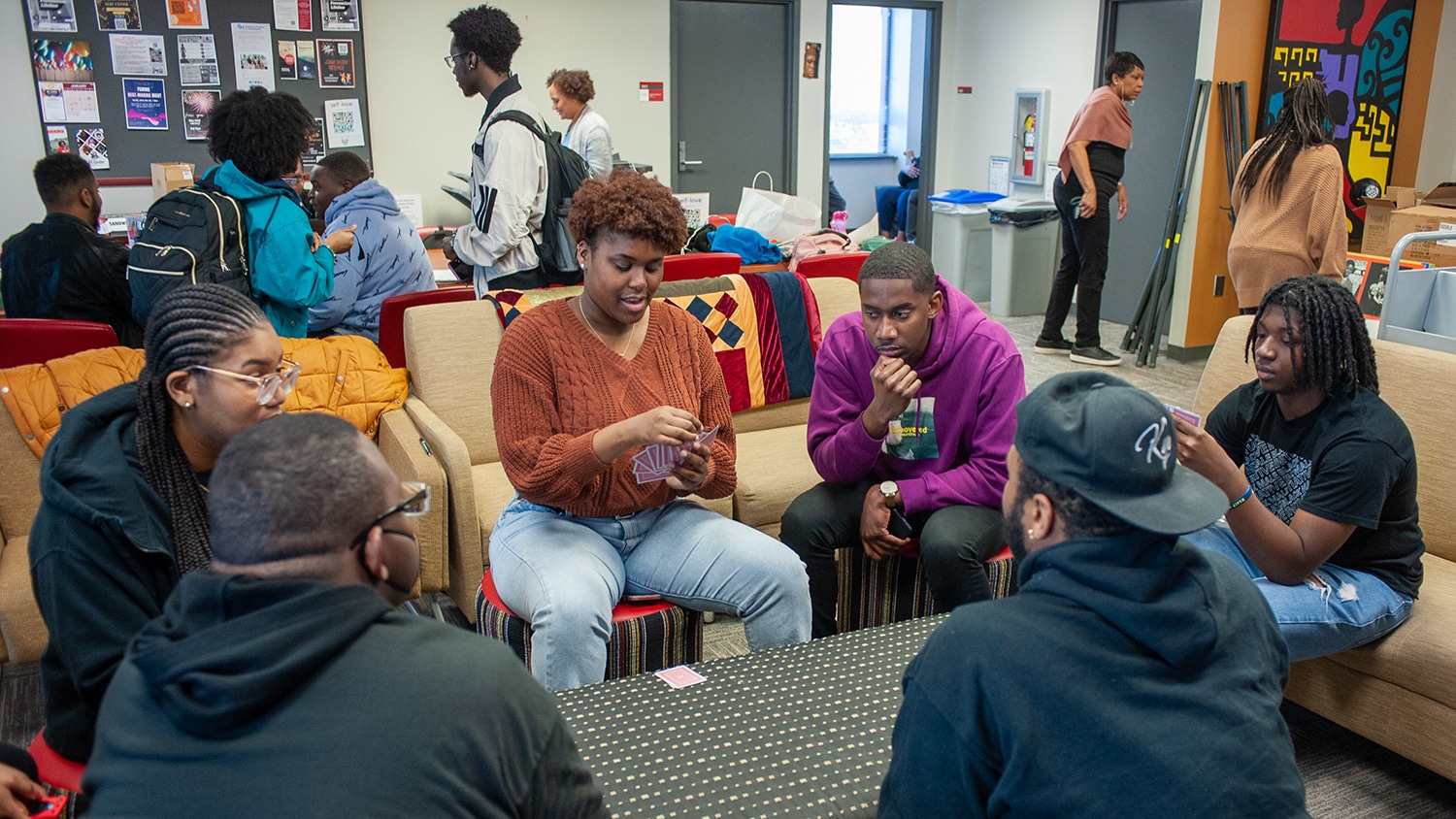 Alexis Grant found her home-away-from-home at NC State by chance. As she and her roommate explored campus early in their freshman year, they discovered the African American Cultural Center (AACC) on the third floor of Witherspoon Student Center. They immediately felt welcomed by students, staff, and the center's vibrant environment. Now a sophomore, Grant spends most of her time at the center, whether it's studying toward her engineering degree, meeting old friends and new, or planning events and social media strategy as a student programming intern. 
"If you're looking for community and a consistent space to go that pretty much has everything, come to this space," Grant said.
Different types of art, including a large mural featuring prominent African Americans, adorn the African American Cultural Center.
Students often drum on a djembe to announce their arrival at the center.
Meeting rooms are available for studying, socializing or organizing events.
Visitors to the center are immediately greeted by a mural featuring prominent African Americans. Artwork, including masks and sculptures, decorates the walls. Near the doors is a rack with the Black student publication, Nubian Message, and nearby bulletin boards are full of resources about health, wellness, classes and clubs. The main area, called "the living room," has couches, a TV and a stack of board and card games. Down the hall are rooms used for studying or meetings, plus a kitchen with a fridge and microwave. 
"This is your place to hang out, to take a nap, to have an emotional outburst, to get a hug, get a snack," said Korie Roane, a master's student studying social work and a graduate intern within the AACC. "The space is there for you, especially if you identify as Black. We're here for you."
"The living room" is the main space to hang out and meet friends at the African American Cultural Center.
A mask hangs on the wall of a study room.
A sculpture stands on a bookshelf.
'As Natural as Breathing'
One of the four campus community centers within NC State's Office for Institutional Equity and Diversity, the AACC affirms the Black experience and advances understanding throughout the university community. Through events, activities, conversations and workshops, the center fosters cultural, intellectual and social growth.
Annual celebrations include Harambee!, a block party in the fall; a weeklong Kwanzaa event; and the Ebony Harlem Awards, which honor the achievements of students and student organizations. The center engages students regularly during a weekly conversation series, called What's on the Table? Every day, the center aims to meet community members where they are and honor their holistic selves.
RelatedSignature EventsThe AACC encourages all students, faculty and staff members to participate in its Signature Events.Find an event 
Engaging with the African American Cultural Center can also be a part of self-care. As an intern with the center, Roane advocates for community members' mental health. She develops programs that focus on students' well-being: She's created an affirmation wall for students outside of Witherspoon, and she hosted an open mic night about self-determination during the center's Kwanzaa celebration.
"There's kind of a stigma that Black people cannot be sad or depressed, or that they can't have mental health issues or concerns," Roane said. "As a Black woman, I've had that experience of being told that I don't know what stress is and that I should be grateful instead of sad about things." 
"Therapy and self-care is not just for when you're in crisis," Roane continued. "It should be all the time, so when you get in crisis, you have the tools to ease it.
Black therapists from the Counseling Center attend What's on the Table? Their presence means students can speak with mental health professionals who understand their challenges and achievements. It's part of ensuring every student feels they have a place they belong on campus. 
"Come as you are, and it should be as natural as breathing," said Andaiye Qaasim, the center's assistant director. "That's really what you feel when you have an experience of being centered, being in the majority and having things geared towards your own growth and development."
At the student-led "March Like Martin" event, community members walked through campus with handmade signs and posters to commemorate Martin Luther King, Jr.
The African American Cultural Center held its first Juneteenth celebration in June 2022.
Students walked from Stafford Commons to Harris Field during the "March Like Martin" event.
The inaugural Juneteenth celebration focused on community, rest and joy.
Pursuit of Cultural Knowledge
The center is also a place for academic engagement and intellectual exploration. In addition to its repertoire of educational workshops and lectures, the AACC is hosting the inaugural Black Research Symposium from March 23 to 25. The symposium will highlight research, storytelling, discussion circles, community-based initiatives and other projects that come from NC State-based Black diasporic scholarship.
A hidden gem of the center is its library, located on the second floor of the Witherspoon Student Center. Readers can find 7,000 books, many of which were written by Black authors. There are fiction, nonfiction, adult, young-adult and children's books, all representative of African American and Black diasporic culture. 
"We work together with the third floor to bring students in and engage in community," said Brionna Johnson, the center's interim library coordinator. "If they ever have questions or want to learn more about their culture or about other cultures, they can definitely find those things in the library." 
A student browses some of the 7,000 books in the African American Cultural Center Library and Media Room.
People can study, watch movies and read. There's also a meditation room, available for anyone who needs a quiet space. Next door to the library is an art gallery, which often displays local artists' work. Johnson hopes to include more student work in the gallery, elevating students from observers to active participants. These areas help students deepen their personal and cultural understanding. 
"Come and show up as you are — whether you want to sit down and watch some TV, play some music, read a book, study," Johnson said. "Be authentically you and do what you need to do."
Fostering Community and Belonging
Since the AACC's inception in the 1970s, it has been home to generations of Black students looking for community and a space to feel they belong. More than 30 years later, the center continues to ensure members of the Wolfpack thrive. 
"When folks come into this space, it's very affirming," Qaasim said. "It's a space where you can say, 'Oh, I can enter as I am, no matter what's going on with me — good day, bad day, mad, happy, excited, tired. I can come in and I can be affirmed and supported.'" 
The center helps connect students, faculty, staff and organizations as a hub for the Black community on campus. Black students make up about 6% of the 38,000 students enrolled at NC State, a predominantly white institution (PWI). The AACC offers a safe space for students to share their experiences and build community both inside and outside its walls. 
"There's a level of camaraderie and togetherness in the Black community, being at a PWI," Grant said. "Our community is large enough that I sometimes forget I go to a PWI. I work, I study, I have fun — all at the AACC."
RelatedMore Ways to Find Your WolfpackNo matter where you're from or where you want to go, there's a community at NC State for you.Get involved