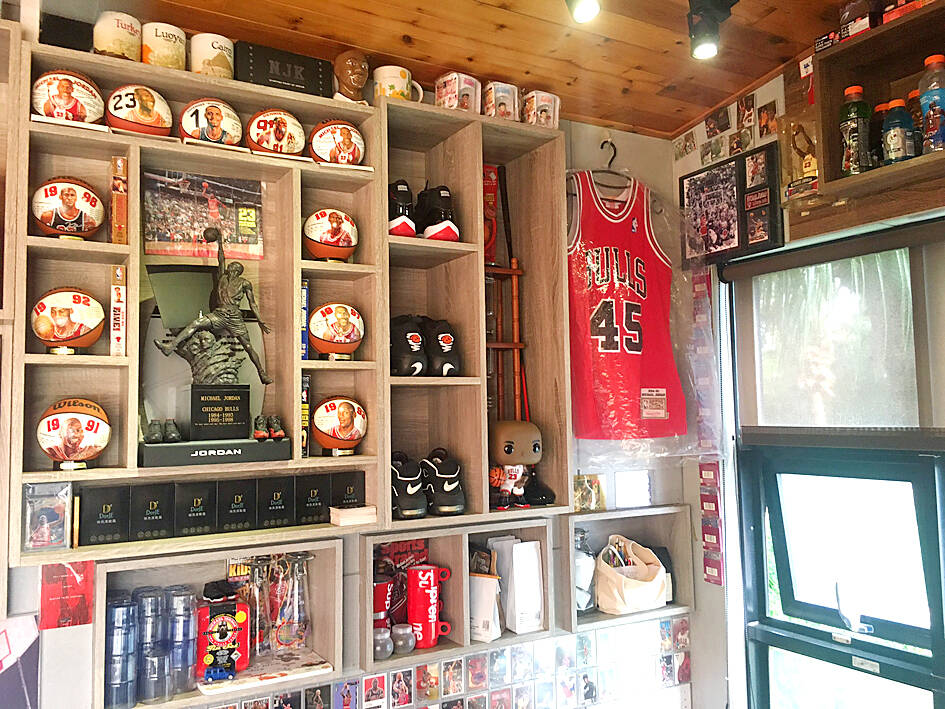 By Hsu Sheng-lun, Cheng Ching-yi and Jake Chung / Staff reporters, with staff writer
Two significant events last year — former Lakers star Dwight Howard joining Taiwan's T1 professional basketball league and the FIFA World Cup soccer tournament in Qatar — underscored the vast economic potential that sports memorabilia could have in Taiwan.
There has always been a market for such products, with loyal supporters purchasing series representing their favorite athletes, a jersey seller who wished to be called A-le (阿樂) said.
Before Howard joined the Taoyuan Leopards, he had announced the decision on his Instagram account, leading to a local surge in demand for replicas of his basketball jersey.
Photo: Hsu Sheng-lun, Taipei Times
Howard began playing for the Taoyuan Leopards in November.
A-le said the value of Howard's jersey increased fivefold after the announcement, from less than NT$1,000 during his career in the US.
Even second-hand jerseys with some blemishes were being fought over, he said.
Some hunt for these peripheral products not to wear, but to keep in a collection, A-le said.
It was similar to when people sought out jerseys or sneakers when Michael Jordan led the Chicago Bulls during their two sets of three consecutive championships from 1991-1998, he said.
Some also hunt exclusively for Jordan's Washington Wizards jersey after he returned to the game in 2001 after retiring, he said.
Interest in the Leopards had been waning before Howard joined the team, but enthusiasm skyrocketed after the announcement, with tickets for the team's matches at their home arena selling out quickly and ticket prices doubling this month.
The Leopards' home arena in Taoyuan created a designated area for Howard-related products, highlighting the effect of a former professional NBA star on Taiwan's peripheral sports goods market.
FIFA products covered the globe last year, boosted by stars such as Lionel Messi and Cristiano Ronaldo playing at the event.
A-le said he noticed at least five Taipei MRT stations selling FIFA-related jerseys, vacuum flasks and towels in special areas for vendors.
Sports lotteries also sold very well during the FIFA playoffs, lottery stand owners said.
However, A-le said that consumers should be cautious about cheap knockoffs and counterfeits entering the market when certain events raise demand.
One way to immediately spot a counterfeit is when the wrong logo or font is used, and fake jerseys easily become unstitched, while fake shoes and sneakers tend to fall apart from inferior glue, A-le said.
A-le advises enthusiasts to find authorized distributors or reputable sellers, specifically brick-and-mortar stores or official Web sites.
When making online purchases, the seller's online reviews should be scrutinized, and in-person transactions should be preferred.
Meanwhile, a basketball card vendor at Taipei's Tonghua Night Market who wished to be called Baoge (寶哥) said the market has been busier than it had been in the past two years, with enthusiasts and collectors taking advantage of Internet transactions and online exchange platforms to sell rare, valuable cards.
A veteran collector who wished to be identified only by the surname Hu (胡) said the crux of card collection is to find the right "key card," often the rookie card of the team.
This is because a first-year rookie card for any player becomes more difficult to find the longer they stay in the sport, and the more famous they become, Hu said.
If a rookie becomes an all-star player, the card can become exceptionally valuable, he added.
However, an exact investment and return ratio on cards can be difficult to calculate, Hu said.
A person could spend a large sum of money on a rookie card for a player who seems to be excelling at the sport, but is later benched and fails to live up to potential because of injuries, he said.
However, Kobe Bryant's rookie card was sold for US$10 at the time of issue, and one sold for US$2 million in February last year, he added.
Comments will be moderated. Keep comments relevant to the article. Remarks containing abusive and obscene language, personal attacks of any kind or promotion will be removed and the user banned. Final decision will be at the discretion of the Taipei Times.