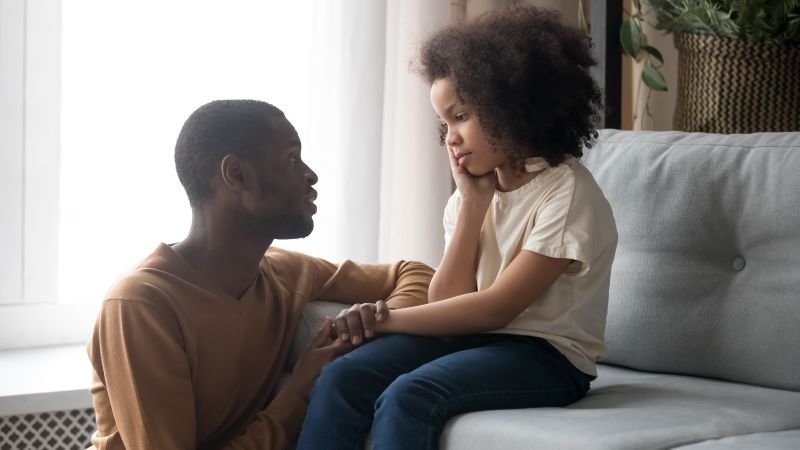 CNN
 — 
Forty percent of US parents are "extremely" or "very" worried that their children will struggle with anxiety or depression at some point, a new survey finds.
The Pew Research Center report said mental health was the greatest concern among parents, followed by bullying, which worries 35% of parents. These concerns trumped fears of kidnapping, dangers of drugs and alcohol, teen pregnancy and getting into trouble with the police.
Concerns varied by race, ethnicity and income level, with roughly 4 in 10 Latino and low-income parents and 3 in 10 Black parents saying they are extremely or very worried that their children could be shot, compared with about 1 in 10 high-income or White parents.
Nearly two-thirds of the respondents said that being a parent has been at least somewhat harder than they expected, about 41% say that being a parent is tiring, and 29% say it is stressful all or most of the time.
The report captured the perceptions of a nationally representative sample of 3,757 US parents whose children were younger than 18 in 2022.
Experts say mental health issues among children and adolescents have skyrocketed in recent years.
"I would say over the last 10 years, since I've been practicing as a general pediatrician, I have seen a shift both in the amount of patients and of all ages dealing with anxiety and depression. And their parents being concerned about this is a key issue," said Dr. Katherine Williamson, a pediatrician and spokesperson for the American Academy of Pediatrics. "Even before the pandemic, we were seeing skyrocketing numbers of kids and adolescents dealing with mental health issues, and that has increased exponentially since the pandemic."
Suicide became the second leading cause of death among children 10 to 14 during the Covid-19 pandemic, according to the US Centers for Disease Control and Prevention. Mental health-related emergency room visits among adolescents 5 to 11 and 12 to 17 also jumped 24% and 31%, respectively.
Many parents feel helpless when their children have mental health issues because they don't feel equipped to offer support in this area.
"They are unable to relieve [mental health issues] and address that as they could if they were struggling with their grades or other things that seem more traditional to for kids to struggle with," said Allen Sabey, a family therapist at the Family Institute at Northwestern University.
Parents trying to "work out and look at and connect with their own feelings will give them important information about what feels off or OK for their kid," he said.
When it comes to anxiety and depression in children, pediatricians say, parents can watch for signs like decreased interest or pleasure in things they previously enjoyed, poor self-esteem and changes in mood, appetite or sleep.
Experts also say parents should consider the amount and content of social media their child consumes, as research has found that it can have negative effects on their mental health.
But, they say, having more parents recognize the importance of mental health in children is a step in the right direction.
"I have always felt there's been so much resistance to seeking care for mental health among the population that I serve. And I am actually happy that since the Covid pandemic, at least people now are recognizing this as a very key and important health need," said Dr. Maggi Smeal, a pediatrician at Stanford Medicine Children's Health.
Smeal hopes that "all people that are interacting with children can be aware of these issues and feel empowered to identify and advocate for these children, to tell them to go to their primary care provider and have an assessment just like you do if your kid has a cough or a fever or ear infection."
The number of parents concerned about gun violence reflects the fact that guns are the leading cause of death among children in the US, research has showed. From 2019 to 2020, the rate of firearm-related deaths increased 29.5% – more than twice the increase as in the general population.
"Gun violence is a real risk to our kids today. And that is both being killed by somebody else as well as suicide in the face of the mental health issues that we're seeing today," Williamson said.
The survey found that Black, Hispanic and lower-income parents were most likely to be concerned about gun violence, a finding that's consistent with the communities most affected. Research has shown that from 2018 to 2021, the rate of firearm-related deaths doubled among Black youth and increased 50% among Hispanic youth. Another study found that children living in low-income areas are at higher risk of firearm-related death.
Direct and indirect exposure to gun violence can contribute to mental health problems.
"Even if they hear gunshots in their community, they hear adults talking, there's all different ways that children are traumatized and victimized by gun violence. And what we see is all the symptoms of anxiety in even the youngest of children. We see children with somatic complaints – stomachaches, headaches. They have post-traumatic stress disorder," Smeal said.
Most of the parents in the survey said parenting is harder than they expected, and that they feel judgment from various sources.
"The findings of this of this report were, as a pediatrician and a parent, just exactly what you would expect. Parenting is the hardest thing you'll ever do, and there are very high levels of stress and fatigue, especially in the parents of young children," Smeal said.
One of the best things parents can do is lean on fellow parents, experts say.
"The main challenge for parents is our siloed independent nature sometimes, and so we want to find people who we trust and kind of work towards being more vulnerable and open with," Sabey said. "To where it's like not just you and your kid, but it's a kind of a group of people caring and working together."
Pediatricians emphasize that no parent is perfect and that the most important thing you can do is to just be there for your child.
"We know that the best chance for a child to be successful and happy is for them to have at least one person in their life who believes in them and advocates for them. So I think it's important for parents to know that there's no such thing as a perfect parent, because we are all human, and humans are imperfect by nature, but that is OK," Williamson said.
A parent's job is to "really make sure that they know how important they are and they have a voice in this world," she said. "Every child will have their own unique struggles, whether it is academically, emotionally, physically. Our job is to help them with the areas [where] they struggle, but even more, help them recognize their strengths."