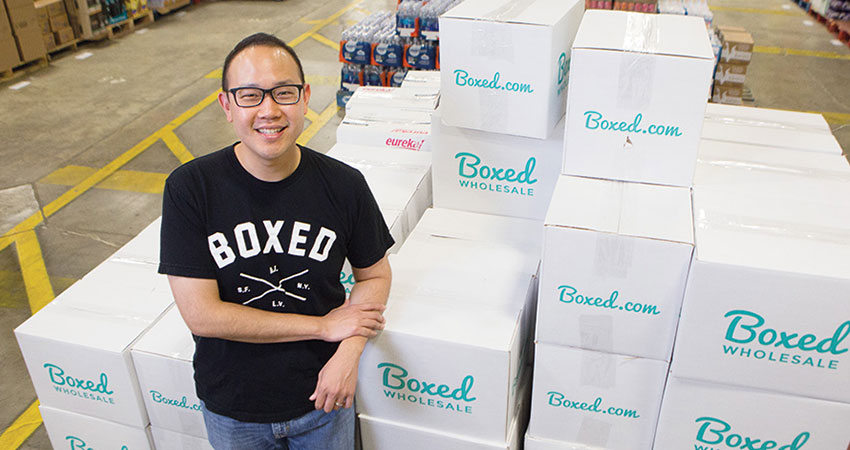 It's getting tough out there.
Boxed, the once high-flying online warehouse club that set out to be the ecommerce equivalent of brick-and-click competitors like Costco, Sam's Club and BJ's, is now exploring strategic alternatives, which euphemistically means looking for a white knight buyer.
Boxed, which went public in December 2021 by merging with special purpose acquisition company (SPAC) Seven Oaks Acquisition Corp., is now finding itself pinched by a drop in e-grocery sales that has been progressing since early 2022.
Amazon CEO Andy Jassy, meanwhile, was forced to acknowledge the ecommerce giant's corporate layoffs are expanding from 10,000 to 18,000 workers, 6% of that workforce, after the Wall Street Journal broke the story Wednesday. Globally, however, it represents just 1.2% of its 1.5 million employees.
There's plenty of other bad news at several major tech companies, with tens of thousands being laid off at Salesforce, Netflix, Tesla and Meta, among others, as companies retrench and pare down to brace for what's ahead.
"Amazon has weathered uncertain and difficult economies in the past, and we will continue to do so," Jassy told employees in an internal post. "These changes will help us pursue our long-term opportunities with a stronger cost structure; however, I'm also optimistic that we'll be inventive, resourceful, and scrappy in this time when we're not hiring expansively and eliminating some roles. Companies that last a long time go through different phases. They're not in heavy people expansion mode every year."
Amazon founder and former CEO Jeff Bezos famously told employees in 2018 that the company was not too big to fail, noting the lifecycle of many large companies was closer to 30 years than 100 years. Much of the company's troubles have come to roost since Bezos handed the reins over to Jassy in Q3 of 2021, including unwinding the over-development of facilities, closing physical locations, product failures, poor quarters and now layoffs.
It's a bumpy road for sure, but Amazon will figure it out and emerge stronger. Its web services business is solid and profitable, and ad revenue is growing rapidly. A trimmed-down ecommerce operation will be positioned to succeed, and Prime is still the industry standard subscription program. Jassy is looking to the company's leadership principle of "invent and simplify" to drive innovation and new releases.
Boxed said in a release that its board, management team and financial and legal advisors have decided the best course of action is to look for a buyer, while at the same time pursuing funding, with the expectation of landing capital in the next 45 days. The company's stock was trading at 38 cents early today, and it was twice threatened with delisting by the New York Stock Exchange last fall.
"We continue to actively pursue financing and, as we explore capital-raising initiatives, we have a duty to our stockholders to explore all the options available to us," Boxed CEO Chieh Huang told Winsight Grocery Business. "So that includes a potential sale of the company, potentially partnering with other folks, potentially a merger. All those different things come into focus as we pursue financing because, now that we're a public company, we have a fiduciary duty to the stockholders to say, 'Hey, we explored all the options.' "
In March 2018, Boxed passed on a $400 million buyout offer from Kroger, with Costco, Target and Amazon also sniffing around. It may have been a good deal in hindsight, but the antitrust scrutiny Kroger is facing for its pending $24.6 billion acquisition of major grocer Abertson's, and the pressure to sell off assets to satisfy regulators, may have been even stiffer. Eight months after passing on its suitors, Boxed closed a $110 million funding round led by Japan's retail giant Aeon Group.