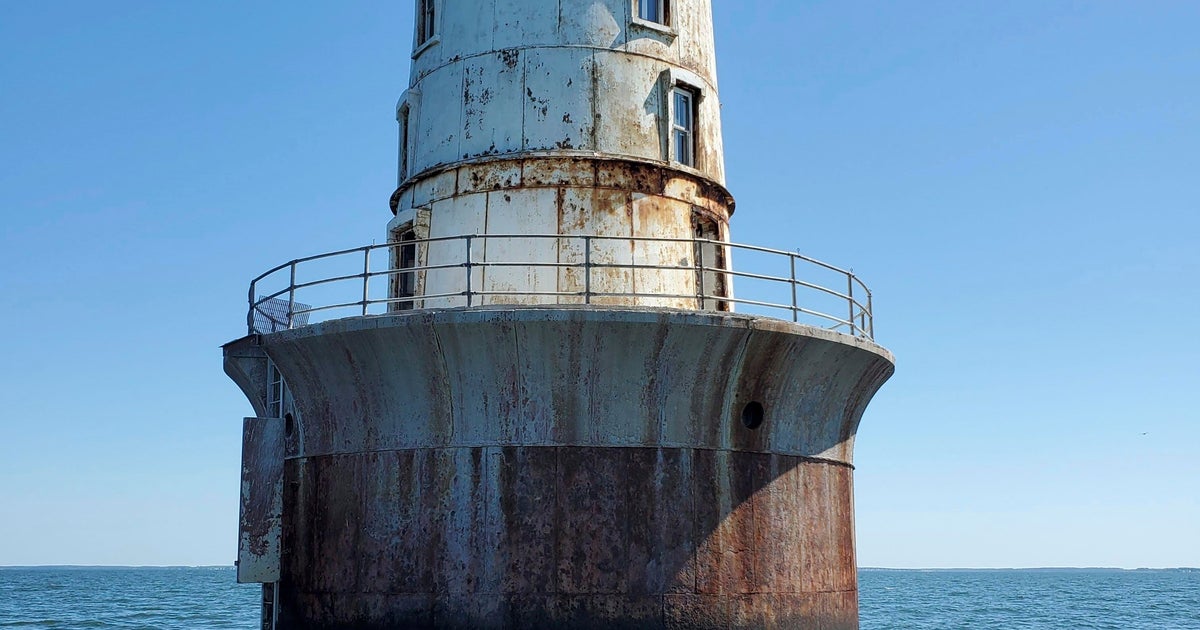 BALTIMORE (AP) — To call it a fixer-upper would be generous. There's no running water, no heat, no electricity.
Once one gets past the romance of buying a historic Chesapeake Bay lighthouse, there's lead paint, asbestos and toxic benzene. Vandals broke down the door and seabirds died inside. Oh, it sits in about 18-feet of water within a U.S. Navy testing site called a "danger zone."
Who wants the Hooper Island Lighthouse anyway?
When the federal government auctioned the 120-year-old lighthouse in September, as a last resort, a bidding war broke out. The price jumped from $15,000 to $38,000. Then $189,000.
"I was expecting nobody to want it," said Greg Krawczyk, vice president of the Chesapeake chapter of the U.S. Lighthouse Society.
Five anonymous bidders wanted the rusty "spark plug," so-called for its cylinder base and 70-foot tower, three miles off the coast of Dorchester County. In the end, someone paid $192,000.
"Odd Chesapeake Bay lighthouse sells for absurd sum at auction," a website mocked.
The buyer remained a mystery until the clerk of court for Dorchester County recorded the deed on Dec. 27. It lists a name: Richard Cucé, of Bucks County, Pennsylvania.
One might have guessed a nonprofit foundation, but Cucé? He runs an industrial painting company outside Allentown. He knows rusty metal, but isn't even a boater. What does a divorced father of four who plays in a band and teaches yoga want with a broken-down lighthouse 200 miles away?
First, some history.
The U.S. government built hundreds of lighthouses as navigational aids. New Jersey's Sandy Hook Lighthouse has cast its light since 1764. By the early 1900s, the Great Lakes alone had more than 200 of the structures. In the Chesapeake Bay, lighthouses marked the shipping channels and guided captains from the shoals along the Eastern Shore. Some 74 lighthouses rose up around the bay — more than 30 stand today — but advances in navigation, particularly GPS, left many obsolete.
"There's still a history there that directly relates to the United States maritime trade," Krawczyk said. "If you just let the lighthouses go, that's an aspect that people will not remember 20, 30 years from now."
Congress established procedures to identify lighthouses no longer needed and transfer them to local governments or nonprofit groups for historic preservation. Officials have transferred more than 80; the famous Thomas Point Shoal Lighthouse went to a partnership led by the City of Annapolis. When officials can't find a government or nonprofit to take them over, they sell lighthouses to the highest bidder.
Some 70 lighthouses have been auctioned for more than $10 million altogether. Three 1800s lighthouses off the Florida Keys sold in May for $415,000, $575,000 and $860,000. The repairs are estimated to cost millions of dollars.
"In each and every one, people wound up figuring out it was a lot more money than they expected," Krawczyk said.
The glamour fades to reality — and it fades fast. Annapolis attorney Ron Katz and several friends pitched in to buy the historic Baltimore Harbor Light, near the mouth of the Magothy River, for $260,000.
Since 1908, the "Baltimore Light," as it's known, has marked the shipping channel into the Patapsco River and city harbor. Katz climbed the rusty ladder to find the roof leaking; no windows, just plexiglass, and the door broken.
"Think about this. You're two miles offshore, so everything that you need to fix the thing, you got to bring it out," he said. "You don't just run to Home Depot."
In the 16 years since they bought the lighthouse, Katz and his friends replaced the windows, doors and roof. They installed solar panels and stashed jugs of fresh water and a portable toilet inside. They painted and painted again.
"You know what the worst thing is? When you're out there and you have the one hammer and you drop it overboard."
Katz can't guess — actually, he doesn't want to know — the amount of money he's spent. The lighthouse has been the scene of a 50th birthday party, a honeymoon, even a zombie movie. It's a half-hour boat ride from Annapolis. There's no cellphone signal on the north side. Who can dream up a better getaway?
"People ask me all the time, 'What are you going to do with it?' I'm going to go out there and have a cocktail and enjoy sunset."
Even for a believer like Katz, the Hooper Island Lighthouse was daunting. Battered by sea winds and saltwater, these landmarks demand constant care. The Hooper Island lighthouse rises from the middle of the bay — three miles from land.
"It's so far offshore," Katz said. "My first thought was, man, they have no idea what they're getting into."
A 52-year-old contractor, Cucé (Cu-Chay) started the industrial painting and sandblasting business Blastco during the mid-1990s in Eastern Pennsylvania. In two decades, he's blasted and painted everything from train cars to roller coasters. Why not a lighthouse?
"I get excited about making something rust-proof forever," he said.
He was tracking the federal auctions last February when the trio of Florida Keys lighthouses went to sale. Authorities offered prospective buyers a boat tour. Cucé flew down and stepped aboard, eyeing his rivals warily. Amid the green seawater and coral reefs, each lighthouse rose up on stilt legs like a rusty flamingo.
He tried desperately for American Shoal Light, the final one and the most remote. The bidding pushed past his limit of $850,000. He let it go, reluctantly.
"My dad was yelling at me, 'What are you doing?' Everybody thought I was crazy."
Cucé felt defeated, but later grateful. American Shoal was so far out to sea it had frightened him. Months afterward, in August, authorities announced another auction: Hooper Island Light.
Listed on the National Register of Historic Places, the lighthouse remains distinctive for its watch room and lantern atop a four-story white tower. Keepers lit the tower on June 1, 1902, and it's remained an aid to navigation for more than a century. The solar-powered light shines today.
A 2019 Coast Guard inspection found the front door gone. Birds roosted inside. Rust speckled the tower and ate the cast-iron foundation. Inspectors considered it "in fair condition, but approaching poor." A buyer would have to sign an agreement with the Navy, promising to avoid the area during weapons testing.
"It's not like it's the ideal lighthouse," Krawczyk said.
Only, it was to Cucé. He told himself that he would not bid more than $200,000. He might have anyway — in fact, probably. Who can put a budget on a dream? But he won with the anonymous bid of $192,000.
The government wants the money in 45 days. He sold a rental house, stocks and spent some of his retirement savings to afford it.
"An unwanted and inhospitable lighthouse finally sells," read one website.
Cucé saw his purchase ridiculed online. What did he just do?
"If somebody tells him it won't work, he'll go and do it. That's been the fire for a lot of things in his life," said Dominic, his oldest son.
Now, he's still dreaming, of a nonprofit foundation and a marketing slogan. "Restore the lighthouse, restore the bay." Cucé started a Facebook page with a glamor shot of the old light. "Feeling Rusty, might delete later." He wants to invite environmental groups to monitor water quality and marine life from its deck. It sits near the edge of oxygen-depleted water known as the "dead zone."
He wants to hire watermen from the three Hoopers Islands to help with the work. His thoughts race with the possibilities. He sent pitches for a documentary on the renovation. How about a YouTube series? A Hollywood film? Later, sunset cruises, a wedding destination, a yoga retreat. Just taste it — Hooper Island Light beer.
First things first. Cucé had to get a boat.