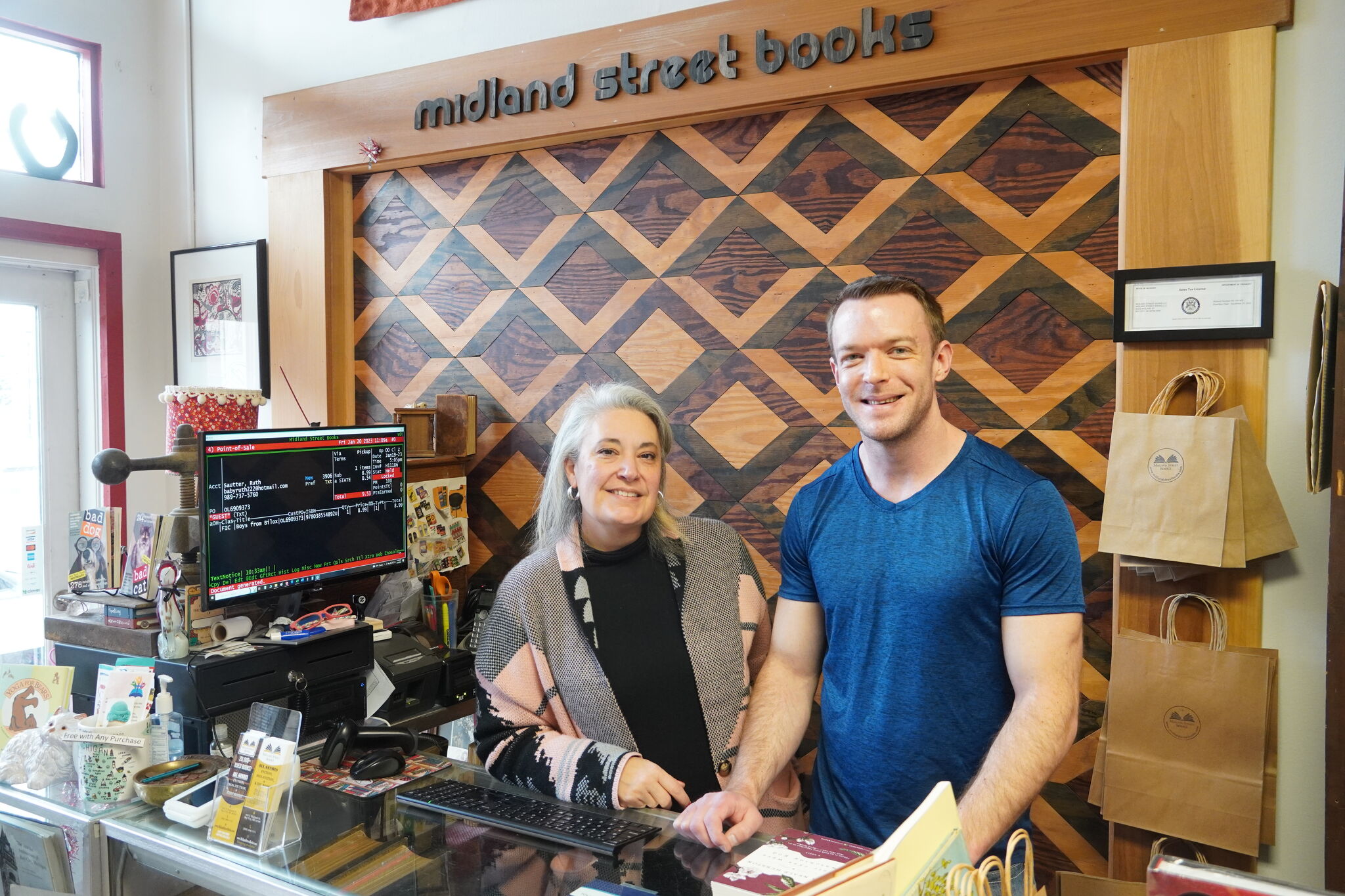 Looking to cozy up for a new book this year? Your next journey through the pages of a thrilling adventure, the life of an activist, or an inspirational self-help book could be found online or at a big box retailer, but if you look close to home you can find it from a nearby used book store.In the Midland Street district of Bay City, you might find yourself lost in the pages of your next book thanks to Midland Street Books. 
Owners Scott Byers and Kerice Basmadjian are looking to foster the best used book store experience that you can find. For Byers, it all started after a disaster in the home caused him to start looking into bookselling.
"I started selling books when I lost nearly everything in a flood," Byers said. "I lived in a basement apartment but my books were on high shelves so I saved those. I started to learn how to sell books online and did that for a while, going around the state of Michigan, going to thrift stores and library sales and selling them."
Byers soon met the owner of the 99 Trees bookstore in Bay City, and with the collection from the then-closing store was able to partner with it to open Midland Street Books. Since then, Byers has taken over the store with the former owner of 99 Trees moving on to pursue other interests. 
He soon partnered with Basmadjian, a regular customer, who helped introduce him to things like the rotary club and helped create a space for him in the Bay City business sphere.
"I showed up like a stray cat," Basmadjian said "I was just coming in as a customer the first few times. I was trying to get to know him a little bit because he didn't grow up in Bay City. I took him to rotary with me."
Byers has been putting his entire time into the bookstore to try and provide a destination for book lovers to come and visit. When he started, the original plan was to sell books on Amazon with the main business online.
"The original plan was we will have the bookstore but the main business would be selling books online," Byers said. "We will have the book store, it will be open a couple days a week. It will be a way to have roots in the community and to get books in. Once it opened something clicked in my mind and I realized, 'Wait, this could be way more than I thought it could be, this is the main business." 
One thing that they are doing with the books that come in is they are quality-checking the ones that go out on the shelf. They have their own rating system to ensure that the books going on the self to buy are of great quality. If a book comes in that is below a certain quality they take the time to repair and restore it to what they consider a sellable quality. In addition to the quality, they are pricing their books at or just below online pricing from places like Amazon.
Their customer base has been consistently growing too. When they started, Byers said they did not have money for marketing. They focused on posting to Facebook regularly and good word of mouth because they want their reputation to be the reason for people to keep coming back. 
"I can't wait until I get to the point where I know everyone when they come in," Basmadjian said. "So that is where I really take my comfort, I want to know people and I want to know what type of books they read so I can give them a recommendations. I've been a reader but there is still a lot I don't know so there has been that learning process for me of learning when someone asks me for a good psychological thriller or something about sci-fi or things I don't normally read and being able to give them direction."
It is with this growth that they said that people are now coming to the area both as customers and businesses. There are now plenty of shops and things to do up and down Midland Street.
"Midland Street has a whole new vibe, it has not been like this maybe ever, not since they opened up the bridge and diverted all the traffic because it used to come off the third street bridge," Basmadjian said. "We are seeing more daytime businesses and family-friendly businesses. We got Heidi's Darn Good Cookies, we have Cops and Donuts, we have the skate shop, we have the coffee shop LoLoBees, and we have the apothecary around the corner here. You see one daytime business succeed and all of a sudden you have this vibe going."
"I said that was partly because of us," Byers. "This is a destination business, people go out of their way to go to a used bookstore. People drive from hours away to come here. This place is going to be a major tourist attraction."
In addition to their storefront, they sell their books on their website and they also ship. Basmadjian noted that they have had people coming from in and around the state and out of state to take a look at what they have when visiting the area. 
Midland Street Books is slowly trying to expand its space as they own the room next door to its main storefront as well. 
Midland Street Books is located at 809 East Midland Street in Bay City and are open seven days a week. They can be found online as well on Facebook and midlandstreetbooks.com.