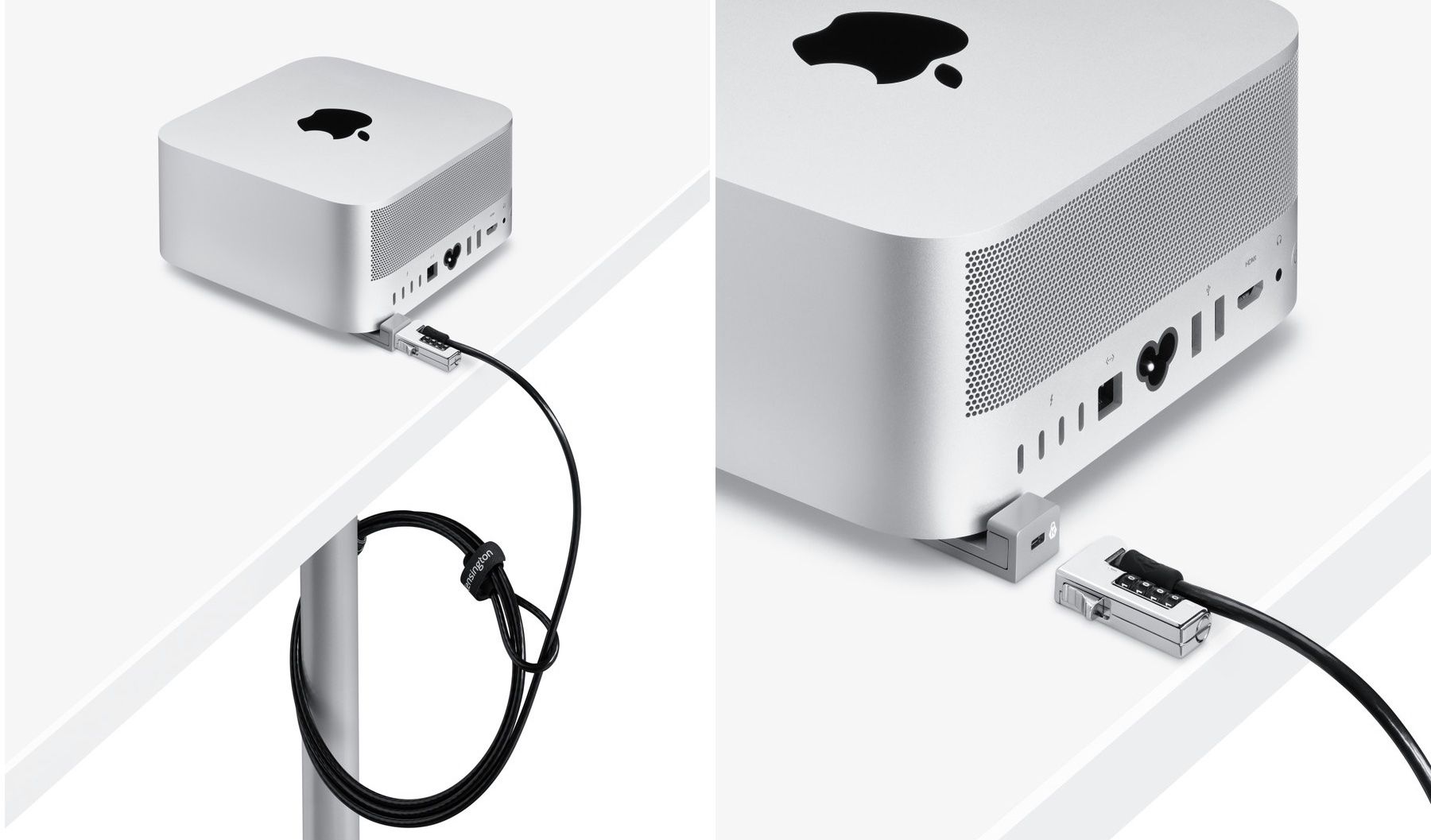 Apple today began selling a Kensington locking kit for the Mac Studio with everything needed to secure the computer to a desk or other surface, including an adapter, a combination lock, and a braided carbon steel cable with a nylon cover.
Kensington says the kit was "designed specifically for Apple" and can be installed in minutes, with no tools or modifications necessary. The adapter attaches to a slot that Apple built into the bottom of the Mac Studio and does not block any ports on the back of the computer. The kit is available to order for $64.95 on Apple's online store.
Kensington is a well-known brand for laptop security locks. Apple included a slot for a Kensington lock on many MacBooks until the early 2010s, and it appears that the companies partnered again to offer a security solution for the Mac Studio.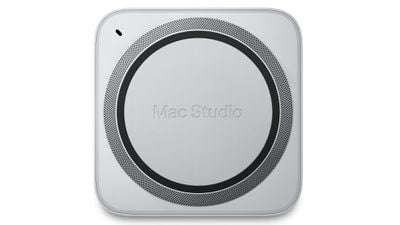 Apple first released the Mac Studio in March 2022. The high-end desktop computer is available with M1 Max and M1 Ultra chip options.
Maclocks also sells a variety of Mac Studio security accessories.
Popular Stories
iOS 16.3 for iPhone Launching Next Week With These 4 New Features
In a recent press release, Apple confirmed that iOS 16.3 will be released to the public next week. The software update will be available for the iPhone 8 and newer and includes a handful of new features, changes, and bug fixes.
Below, we've recapped bigger features in iOS 16.3, including support for physical security keys as a two-factor authentication option for Apple ID accounts, worldwide …
iPhone 15 Pro Rumored to Feature Ultra-Thin Curved Bezels
The iPhone 15 Pro models will have thinner, curved bezels compared to the iPhone 14 Pro models, potentially resulting in an Apple Watch-like appearance, according to the leaker known as "ShrimpApplePro."
ShrimpApplePro clarified that the next-generation "Pro" iPhone models will still have flat displays, since only the bezels are to be curved. According to a source speaking to the leaker,…
Apple Releases iOS 16.3 With Security Keys for Apple ID, New HomePod Support, Bug Fixes and More
Apple today released iOS 16.3, the third major update to the iOS 16 operating system that first came out in September. iOS 16.3 comes over a month after the launch of iOS 16.2, an update that added the Freeform app, Apple Music Sing, Advanced Data Protection, and more.
iOS 16‌.3 can be downloaded on eligible iPhones and iPads over-the-air by going to Settings > General > Software Update….
Apple Releases macOS Ventura 13.2
Apple today released macOS Ventura 13.2, the second major update to the macOS Ventura operating system initially released in October. macOS Ventura 13.2 comes more than a month after macOS Ventura 13.1, an update that added the Freeform app and other changes.
The ‌macOS Ventura‌ 13.2 update can be downloaded for free on all eligible Macs using the Software Update section of System…
Apple Releases watchOS 9.3 With New Watch Face, Bug Fixes
Apple today released watchOS 9.3, the third major update to the watchOS 9 operating system that first launched in September. watchOS 9.3 comes over a month after watchOS 9.2, an update that added new Workout functionality and Crash Detection optimizations.
watchOS 9.3 can be downloaded for free through the Apple Watch app on the iPhone by opening it up and going to General > Software Update. …
Apple Breaks 13-Year Tradition by Announcing New Products in January
Apple this week broke a tradition it has maintained for the past 13 years by announcing new products in the first month of the year. This week, Apple unexpectedly announced several new products, including updated 14-inch and 16-inch MacBook Pros powered by M2 Pro and M2 Max, a new Mac mini with M2 and M2 Pro, and an updated HomePod. As it has occasionally done, Apple announced the latest…