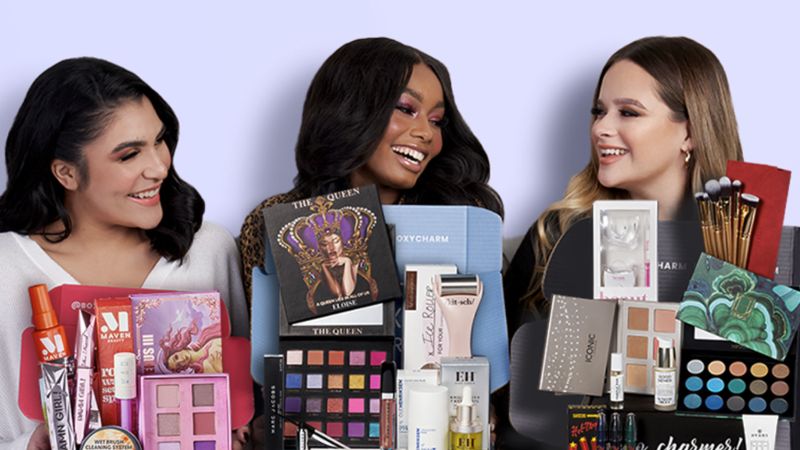 Beauty subscriptions are here to make finding amazing products easier and more budget-friendly in the long run. With flexible membership plans and frequency options, you can explore bestselling brands across makeup, skin care, hair care and more each month, delivered straight to your door. From makeup samples to full-size skin care products, beauty subscription boxes are an easy way to keep your makeup bag filled with the latest and greatest.
Not to mention, they make great gifts for your beauty junkie bestie, skin care obsessed sister or even your Valentine.
"A subscription is great for two reasons: as a solution to refilling your most used items (no shower without your conditioner moment) and it is also a great way to explore new products," says Jeanine Lobell, celebrity makeup artist and founder of makeup brand Neen.
Here, we're focusing on the latter with a roundup of discovery boxes, customized products and monthly memberships that will help you fall in love with your beauty routine anew.
Best overall value
The Allure Beauty Box has a number of perks. Members can choose from monthly ($23 per box), quarterly ($20 per box) or annual plans ($19 per box), and each month, they'll receive a selection of at least six editor-curated products. The boxes include a variety of full-size and sample-size products, and bonus products are often thrown in. For example, January's box features seven items total, including five full-size items and two sample-size products with a total value of $182. You'll find a mix of major and indie makeup, skin care and hair care brands, such as Sunday Riley, Milk Makeup, Rare Beauty and lots more. The subscription is flexible, so you can skip a month or cancel whenever you want. Plus, the membership comes with access to the Member Store, where you can shop premium products at up to 80% off. New members will also get a free sign-up gift, and Allure Beauty Box is currently running a promotion where you can get your first box for only $10 using the code HEART.
Best customized subscription
For only $13 per month, you can try up to $50 worth of new products, making Ipsy's subscription an affordable option for those that love to play with new makeup, skin care and more. Ipsy's personalized experience starts with a beauty quiz where you answer questions about your appearance, the types of products you use, favorite brands, and color preferences for makeup. Then, the company creates a customized box each month filled with five deluxe-size samples that it thinks you'll love. You'll even get to choose one of the items yourself. Past Glam Bags have included Stila, Elemis, Tatcha, It Cosmetics and more. If you're loving your samples, you can upgrade to the Glam Bag Plus subscription ($28 per month), which consists of five full-size products and you get to choose three of them, or the Glam Bag X ($58 per quarter), which features eight full-size products picked by celebrities and you get to choose three of them.
Best clean beauty box
Kinder Beauty makes discovering high-quality clean and ethical beauty brands a breeze with its monthly subscription boxes. The company only includes products that are vegan, cruelty-free and free from common toxins. Each Kinder Beauty Box has a value of up to $165 and features three full-size products along with a selection of samples. In addition, Kinder Beauty donates a portion of its sales to animal rights and environmental causes.You can use code 10KINDER to redeem a welcome offer of $10 for your first box.
Best full-size makeup subscription
Boxycharm offers customized beauty boxes with full-size product that tend to focus on makeup (although you might score some name-brand skin care in there, too). Its Base subscription features five full-size products, including your choice of one item, which are determined based on an initial Beauty Quiz that you take at sign-up. At $28 per month, you're essentially getting five products for the price of one — and members can snag exclusive deals with up to 70% off the retail price of fan-favorite brands.
Best makeup subscription for beginners
Neen's first-of-its-kind makeup subscription cards let you try five new makeup looks each month and the cost of the cards are returned in store credit that you can redeem for full-size product. The creative cards feature five peel-back swatches so you can test the products and follow along QR code-activated tutorials for the corresponding looks. "We made our look cards so everyone can experiment and try new colors and products using the tutorials as their fool proof guide," Lobell says. "It's a more conscious way to check something out, so you don't end up with full-size products you might never use or have to return (which ends up in a landfill)."The format is great for beginners looking to pick up some new makeup skills. When you use Neen's app, you can use the split-screen feature to record yourself or take selfies while watching a tutorial. Plus, you'll get to hear from the models featured on the cards and get to hear some inspiring stories while perfecting your look. "The great thing about Neen is that it's about who you are as a person as well as how you look; every model shares their story as part of their tutorial video on the subscription card," the founder says. "Highlighting a variety of causes each model is passionate about, their stories inspire the community."
Best pro-approved products
Dermstore is a destination for shopping expert-approved beauty products from top-rated brands like SkinCeuticals, Replenix, Ren and more. With its wide selection, it can be easy to get overwhelmed. But the BeautyFix box makes it easy to try a variety of products each month and find the ones you truly love. Each box contains a mix of full and sample-size products across makeup, hair care and skin care — with a particular focus on the latter. From cleansers and sunscreen to sheet masks and body lotion, it'll have your whole routine covered.
Best for acne
Curology is a great option for getting a customized, prescription-strength acne treatment without a visit to the doctor. After filling out a questionnaire about your skin type, condition, concerns and medical history, a medical provider will prescribe a custom formula tailored to your needs. You'll even send them an image of your skin so they can get the full picture. The custom face cream will contain up to three active ingredients to address your skin concerns, and you'll get it delivered to your door bi-monthly. You can also customize your routine and add on cleanser, moisturizer, acne body wash and/or pimple patches to each shipment, too.
Best budget-friendly facial membership
If your vanity is already filled to the brim, opting for a monthly facial is a way to keep your skin in tip-top shape and try some new products along the way. Glowbar's 30-minute custom facials make them efficient and accessible, so you can easily level up your skin care routine. "Traditional spa treatments are something you treat yourself with; it's a long, relaxing process you want to soak in. A facial studio like Glowbar is something that should be part of your weekly or monthly routine; a quick and efficient facial you can fit in before or after work that doesn't break the bank," says Rachel Liverman, co-founder and CEO of Glowbar. "Both have positive results, but consistency is key which is what makes facial members, specifically at Glowbar, the more practical, effective method for self-care." For $55, you get one discounted 30-minute facial per month and perks like an annual guest pass to share with a friend and 10% off retail products at its studios in New York (and soon-to-be across the East Coast).If you're happy with the results, then you have an expert-approved products to add to your routine. "Our estheticians are there to answer your skincare questions and concerns and to help guide you along your skincare journey, no matter where you're at," Liverman says. "Whether you're starting at square one or square ten; we can meet you wherever you are in your skincare journey."
Best luxury facial membership
"With our busy schedules and non-stop appointments, we don't make our skin the priority, we talk so much about self-care and prioritizing ourselves but we don't keep up with the consistency. We need to create a 'care culture' where monthly facials with professional estheticians are the norm and that is why subscriptions are essential," says Rachel Gallo, esthetician and chief operating officer at Silver Mirror Facial Bar, which has locations in New York City, DC and Miami. "Our guests come in with skin care goals that take time to achieve and need a combination of customized facials and a daily at-home routine." With its 50-minute facial membership, you'll save $29 dollars on one discounted acne-fighting, anti-aging, brightening, sensitive or seasonal facial per month and 10% off facial add-ons, product purchases and additional facials. The anti-aging facial is especially great and includes luxe treatments like a vitamin-enriched oxygen blast, LED therapy and muscle-stimulating technology that will have your face glowing and sculpted in less than an hour.
Best customized routine
Get a custom-formulated hair care routine delivered to you as often as you need with Prose's subscription service. Once you complete an online consultation about your hair type and needs, it will give you suggestions on what products to use, complete with personalized formulas. With the subscription, you'll get 15% off each order, and you can control the delivery frequency, which products are included and gain access to exclusive limited edition products. In addition to shampoo and conditioner, Prose has custom hair masks, scalp masks, hair oil, dry shampoo, leave-in conditioner, curl cream and styling gel.
Best for curly hair
Made to care for curly hair, this subscription box includes four to six full-size products each month. Featuring new launches and special picks curated for natural hair, Curlbox subscribers rave about its products. From scalp-soothing treatments to moisturizing conditioners, the boxes will help take the stress out of your next wash day.
Best for color touch-ups
For those with color-treated hair, Madison Reed's monthly membership will save the day. It consists of unlimited roots services at any Madison Reed Hair Color Bar location nationwide, 25% off additional salon services, 10% off retail products and some other perks. Those monthly touch-ups will help extend the time between full color services and ultimately help you save time and money at the salon.
Best for nail polish
Orly's quarterly subscription gives members early access to its nail polish collections so your tips can always be on-trend. With at least a $70 value and free shipping each box, the polish-packed subscription is perfect for those who love an at-home manicure as much as a trip to the nail salon.
Best for press-on nails
With the Chillhouse Mystery Box, subscribers get two sets of surprise Chill tips every two months. You can expect fun color combos and punchy patterns that will make your nails standout. Among our favorite press-ons, each set comes with 24 nails for a seamless fit, a dual sided buffer and file, cuticle stick and glue.
Best for nail polish strips
A hybrid between nail polish and press-on nails, these top-rated nail polish strips give you an easy manicure in minutes. The themed monthly ColorPlay box includes a variety of strips that you can mix and match. The colors and designs are exclusive to the box, and you might even find bonus nail care products, like cuticle oil, inside. Once you have the learning curve down, you'll always be able to give yourself a manicure in a pinch.
Best monthly fragrance subscription
Fill out a quiz so Scentbird can recommend fragrances based on your preferences, then pick a designer perfume or cologne to try each month. With over 500 luxury fragrances to choose from, you'll never run out of options. For the first month, you'll receive an eight-milliliter atomizer case (enough to last 30-days, plus some) that can be reused each month.
Best fragrance variety
Get your first month of Scentbox subscription for $10, then pay the standard $17 for each following month of access to designer fragrances. Scentbox's portfolio of over 600 perfumes and colognes means there are plenty of scent profiles to play with. You'll get a 30-day supply of your choice of one fragrance per month and a keepsake box with the most basic plan, but if you love having a fragrance wardrobe to choose from, you can opt for up to three fragrances per month. In addition, Premium and Platinum membership upgrades will increase the number of designer fragrances (up to 1,000+) you can choose from. And if you don't love the scent you picked, you can exchange it once per month.